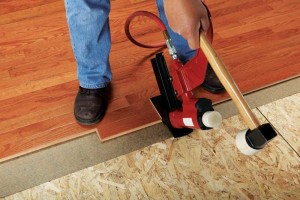 Additionally, since aesthetic preferences change, it is important to specify a hardwood floor suitable for sanding and restaining. Solid wood flooring products appropriate for this process are those that can absorb various stains, including oil and water-based. Sanding and refinishing solid strip flooring can help retain the floor's natural aesthetic when normal wear and use starts to affect its surface appearance.
Engineered wood flooring has less flexibility for refinishing than solid strip flooring. In general, sanding and refinishing engineered products is possible on those with a thicker wear layer—at least 3 mm (1⁄9 in.) thick—while rescreening is possible on those with a wear layer thickness of 2 mm (1⁄14 in.) or less. However, it is important to note this is a subjective process. The option to refinish engineered wood flooring largely depends on the surface condition of the hardwood wear layer's surface condition.
Finishing options
Solid and engineered wood flooring products are available unfinished or prefinished, but most of today's engineered wood products are the latter.
A benefit of selecting unfinished flooring is that design teams have an opportunity to view the surface in built-out spaces and tailor finishes to the application. Finishing onsite also helps preserve the natural characteristics of the wood, and enables the installer to create borders, inlays, and other custom elements. Without proper controls, the process' downside is it can produce odors and gases adversely affecting indoor air quality (IAQ) during construction. Comparatively, refinished floors are stained, finished, and dried in a controlled environment long before installation and can help mitigate a floor's impact on IAQ during construction. Also, it allows teams to expedite the installation process—a key reason why the trend toward prefinished hardwood flooring is expected to grow.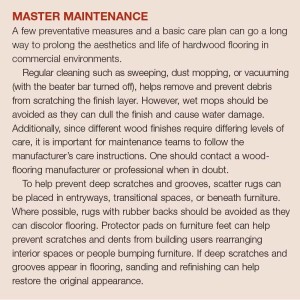 Penetrating finishes require more intensive maintenance. For instance, a wax finish soaks into the pores of wood flooring to create a hard, protective seal and glistening surface. The result is beautiful, but maintenance staff must periodically reapply wax and cleaners to ensure the floor keeps its luster (see "Master Maintenance").
Another important consideration pertaining to finishes is whether the applied treatment matches maintenance needs. Of the two broad options, a surface finish requires less maintenance than a penetrating finish. A protective polyurethane topcoat, for example, necessitates a weekly sweep or dust and occasional cleaning with a no-wax floor cleaner per manufacturer recommendations.
Conclusion
Versatile and made of genuine wood, there is no question as to whether hardwood flooring adds value to commercial interior applications. The question is rather which option is best-suited for a given application. Since it can prove challenging—even for trained professionals—to distinguish between solid-strip and engineered hardwood flooring once installed, a good working knowledge of the two offerings can help building and design teams move beyond appearance to performance.
Eric Anderson is the marketing manager for Weyerhaeuser Forestlands International, which offers solid and engineered exotic hardwood flooring, lumber, and veneer for various applications. Educated as an architect, he has worked for several firms and spent 12 years as the owner of a furniture design and residential building and remodeling business before joining Weyerhaeuser. Anderson can be reached at eric.anderson2@weyerhaeuser.com.