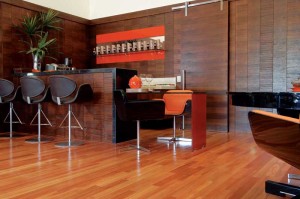 The amount of moisture a floor must withstand depends on its location within a building. For instance, hardwood floors in a restaurant dining room needs to hold up to spills. Barring poor maintenance and unattended spills, the dimensional stability of engineered wood flooring can act as an important ally in preventing water damage. Since constant exposure to water degrades a hardwood floor's appearance, the design professional may want to consider an alternative surface material in applications prone to heavy moisture content.
A floor's location within a building can also determine the amount of foot traffic it must withstand and the desired level of durability. Hardwood floors on the main level of a museum would likely be exposed to large, concentrated groups of people, whereas hardwood floors on the second floor of a library would be subjected to smaller, more infrequent groups of people. Where heavy foot traffic is anticipated, design professionals should consider specifying harder and denser wood flooring options given their better wear resistance. For solid-strip hardwood flooring, woods that surpass red oak on the Janka Ball Hardness Test (i.e. 8894 kPa [1290 psi])—the industry benchmark for wear resilience—are more durable. Examples of hardwood species exceeding this threshold include:
ash;
sapele;
ipê;
mahogany; and
select eucalyptus varieties.
Given their manufactured core, many engineered hardwood flooring products are suitable for high-traffic areas.
Hardwood flooring systems designated for building entrances have a special set of maintenance, design, and slip-resistant considerations. They must withstand water and dirt deposits for brief periods, shoe tracks, and frequent mopping to ensure a safe and clean surface. While it is reasonable to expect harder wood species and engineered hardwood flooring to perform better in such areas, incorporating mats is an essential design component.
Mats can help protect floors against water damage, remove dirt and debris from shoes as people enter the building, and help prevent slips and accidents. In climates that have frequent precipitation, floors are more subject to water deposits regularly. For these applications, one should consider using heavy-duty textile-based mat systems for entrances.
Acoustic properties
Since floors reflect sound off their hard surface and can amplify or dampen the sound of footfall, it is important to specify a floorcovering to contribute to a commercial space's sound attenuation goals.
For example, in performing arts centers, concert halls, and other places where sound optimization is paramount, solid wood flooring with a dense, fine structure and high dimensional stability should be considered. Hardwoods with these properties can act as sound reflectors, while also helping absorb lower-frequency sounds. They pair well with porous-surfaced materials (i.e. upholstery, drapery, and carpet) that absorb higher-frequency sounds. This design tactic helps optimize sound quality, reverberation time, and a space's ability to support a wide range of frequencies. (For more, refer to Ulrike G. K. Wegst's article, "Wood for Sound," in the October 2006 edition of American Journal of Botany. Visit www.amjbot.org/content/93/10/1439.full.) An acoustic specialist can help guide the selection and design process for concert halls' complexity.
In commercial areas where it is important to minimize the impact of noises, appropriately installed solid and engineered wood flooring can help diffuse and absorb in-room sound. Solid wood flooring installation is typically straightforward. Contractors normally nail down flooring strips as per NWFA guidelines, with successive flooring strips tightly laid groove-to-tongue, and an expansion space between the strip and wall.
Best practices when using engineered wood flooring include nailing the wood surface to a substrate with a tested and approved acoustic underlayment. Nailing the floor to the substrate helps eliminate excessive movement. Underlayments with an acoustic foam top can help further absorb noise, reduce the hollow sound of footfalls, and cushion the floor's movement.
Before final selection, it is important to ensure hardwood flooring and other building elements work together to comply with applicable acoustic control standards. In California, for instance, the 2010 California Green Building Standards Code (CALGreen) requires residential and non-residential construction up to three stories to comply with sound transmission and impact insulation standards.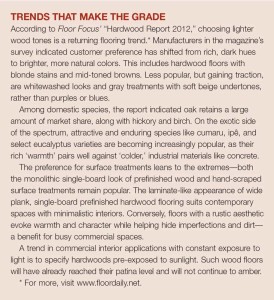 Aesthetic considerations
While solid wood flooring features a wide range of grain patterns, colors, and growth marks, it is specie type that generally determines the surface aesthetic. With engineered wood flooring, the makeup of the top wear layer impacts its appearance. For example, the grain of rotary-cut veneers—sawn like layers of plywood—resembles plywood. The grain of flat-cut veneer (milled by slicing along the length of the log) better emulates the surface of solid-strip flooring.
Since contemporary style and client preference often dictate selection, asking the following basic questions can guide an application (see "Trends that Make the Grade."):
Does the hardwood flooring match the interior color palette?
Does the hardwood grain compete with interior furniture?
Does the space call for the interplay of flooring planks or a monolithic aesthetic?
Does the space warrant sequences of short or long flooring planks?
How will daylight levels affect the hardwood floor's aesthetic?
Is patina—the ambering of wood when exposed to sunlight—a concern with the hardwood flooring?