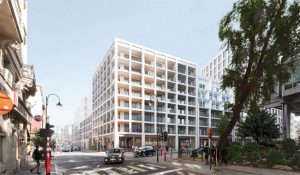 Henning Larsen has unveiled its vision for Brouck'R, an urban transformation project facing Brussels' Place De Brouckère, bringing 48,000 m2 (516,668 sf) of commercial, residential, hotel, and green space to the Belgian capital.
Developed in collaboration with Brussels-based studio A2RC, Brouck'R will unify city living and working in a single, central city block that opens onto the grand Place de Brouckère. The design for the block balances the architectural heritage of Brussels's grand Belle Epoque structures with a contemporary approach to style and scale.
Brouck'R expands on local efforts to pedestrianize and re-center civic life in Brussels' urban core, wrapping an entire block with apartments and student accommodations. The design comprises 311 new residences, divided between apartment and student-geared accommodations. The courtyard at the building's center will be a green oasis, with gardens at the ground level and trellises/green walls that climb upward along the south and west internal façades. Commercial and retail program, which makes up nearly a quarter of the development, will anchor the buildings at ground level.
Brouck'R's four façades face different urban conditions—the iconic row of 19th-century façades lining the Place de Brouckère will remain, fronting new construction behind. The remaining three façades will appear continuous, broken down into modules changing every 18 to 20 m (59 to 66 ft), an approach that links the design to walking pace, rather than at the speed of traffic.
A variety of brick construction types are used to reduce the scale of the massing. Looking up, the building's upper floors will be clad in slim, light-colored material that visually marks not just a difference in program types, but also in living styles. Brick-clad apartments comprise the bulk of the residential program and visually link the surrounding context.
Construction on Brouck'R is expected to commence in mid-2021 and reach completion in 2024.