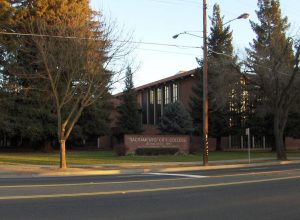 HGA, a multidisciplinary design firm, has been selected to design Sacramento City College's (SCC's) new Lillard Hall building, which will house the two-year community college's science program. Construction of the $40-million, 5017-m2 (54,000-sf) building will begin in spring of 2020.
Named after SCC's first president, Jeremiah B. Lillard, the new building will replace an existing structure and be a completely modernized space to house the college's labs and laboratory support spaces. The existing building will be demolished following the construction of the new hall.
SCC's goal for the new building was for HGA to design a state-of-the-art facility with a net-zero energy goal, while still being architecturally consistent with other buildings at SCC and the Los Rios Community College District.
One of the top goals of campus leadership was to ensure this building maintains the classic brick walls and clay tile mansard roofs that unify the campus. The main design challenge HGA faces will be merging the more traditional aspects of the building with technologically advanced features.
"We are looking forward to the design challenge of creating a building that projects 'state-of-the-art' while simultaneously being harmonious with the traditional and revered feel of the campus," said Creed Kampa, AIA, LEED AP, design principal at HGA. "Besides being safe and highly functional, we want students, faculty, and staff to love being able to learn and teach in this new environment."
In addition to laboratories and laboratory support spaces, the building will include general education classrooms and office and outdoor spaces.
Another challenge that HGA overcame during the design process was providing modern learning spaces that promote collaboration and flexibility while also meeting the standard programming requirements of a science building, such as labs, classrooms, and lecture halls with stadium-style seating.
"The new Lillard Hall project will improve the educational opportunities available to the community by providing modern classrooms and lab space for several of the science programs at Sacramento City College," said Carrie Bray, SCC vice-president of administrative services.