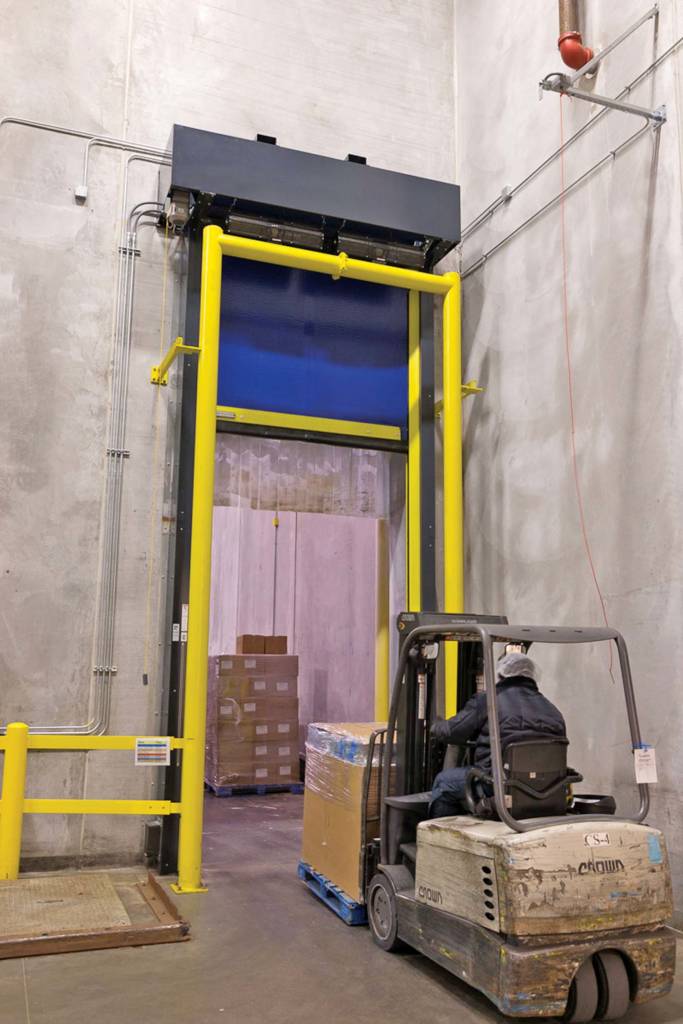 Faster material handling
The smaller footprint means shorter aisles in the cold-storage room to store and retrieve product with the help of high-mast forklifts.
A growing number of cold-storage facilities are investing in online automated storage and retrieval systems for high-volume material handling. They are considering these automated systems because labor is either high-cost or difficult to find or at times both.
To maximize their value and economic effectiveness, the higher the volume these systems can manage, the greater the payback they can achieve. Consequently, these systems need to be housed in taller cold-storage facilities.
However, volume is key. Most facilities still employ a fleet of forklifts to move products. But these are not just any kind of industrial trucks. They have a high mast enabling the forklifts to reach the highest shelf, and then retract to a lowered height for traversing the warehouse floor and finally passing through the facility's doorways.
Reduced downtime
As high-ceiling cold-storage spaces become increasingly common, the doors allowing access to the rooms play a significant role in the full utilization of the facilities. The building's smaller footprint means there is less linear wall space, so these rooms have fewer doorways. With minimal access points, if a doorway is inaccessible, it creates a huge issue for facilities.
An example is pizza-maker Palermo's Pizza. Just a few years after building and moving into a new facility in Milwaukee's Menomonee Valley industrial corridor, demand for its product increased and the company needed more space. Rather than relocate to an area farther from its workforce, Palermo's added 5946-m2 (64,000 sf) to its existing operation, including a 12-m (40-ft) high ceiling in the freezer storage room. Since the facility is in the heart of the city, this addition made sense as it minimized land usage.
The higher ceiling in essence created a smaller footprint and meant less aisle distance to cover for faster access to the product. However, there are also fewer doorways—just five in this case. Downtime of any of these doors would be a costly slowdown for the operation.
According to Palermo's facilities engineer Steve Daniels, "Our guys are going back and forth through that freezer all day long, taking raw materials to the line. If we cannot keep that flow going, we are shut down."
High-mast forklifts—requiring 5.5 m (18 ft) of clearance—can go through these doorways hundreds of times a day. The extreme cold and the demands of meeting short deadlines force drivers to move quickly.
A slow-opening door could be a target for forklifts because drivers can misjudge whether or not a doorway is clear; they might clip the door's bottom as it rolls up. Drivers are watching the floor as they access a doorway and are not looking up. Losing even one doorway due to a vehicle collision could severely impact the company's tight schedules and strain its customer relationships.
However, fast doors make collisions with their panels nearly impossible. The fastest doors can provide a clear doorway in less than two seconds, allowing unimpeded traffic access for even the tightest approaches.
In the rare case of a door getting hit, most high-speed models have a breakaway/fast reset feature that gets the door back in operation in just seconds. Consequently, door repair crews—a common sight in many operations—seldom have to pay a visit except for an occasional tune-up, also saving repair costs.
Additionally, when it comes to routine door maintenance, advanced electronics in the high-speed door controller enable operational adjustments to be made at floor level, a real benefit when doors are 5.5 m tall. This means the man-lift stays parked.
These electronics systems offer total digital control and self-diagnostics to minimize maintenance surprises, too. The AC drive enables soft starts and stops, while providing smooth motion at the door's high speeds for a longer component life. These doors can further reduce maintenance by eliminating coil cords, usually attached to the bottom bar. Instead, wireless communication with the controller—wherever it is mounted—continually tracks door operation and provides greater safety.