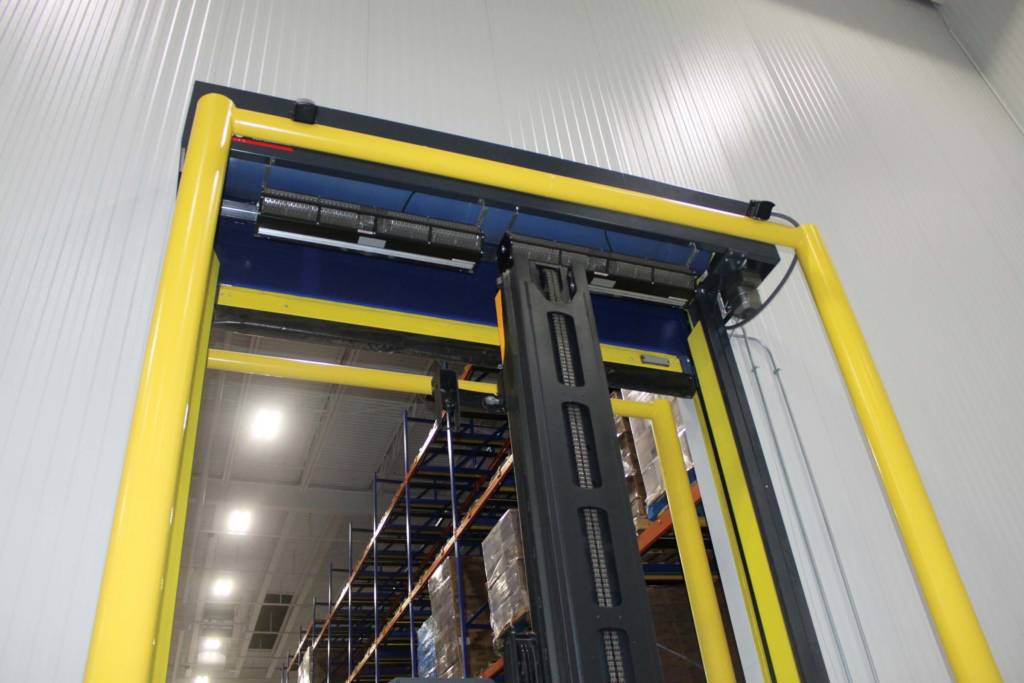 Faster traffic flow
Every second counts in a busy operation where doorways are accessed hundreds of times or more each day. Since a high-speed door can be opened and accessed in only seconds, even for doorways upwards of 5.5 m tall, it can save hundreds of accumulated man-hours a year, which is otherwise, spent waiting for the door to open. This speed allows for better utilization of both human resources and investment in equipment.
The McCook, Illinois, facility of Golden State Foods (GSF) has a considerable volume of product to handle and disperse to hundreds of locations, with each of its clients ordering more than 100 inventory items daily. Based on its volume, this 24/7 food-service operation generates 10,000 to 15,000 cycles per month. Inventory for each account cycles every six days; turns in the cooler happen twice a day. In the freezer, inventory turns every day and a half.
Door speed is key to product flow in these instances. With doors operating at a rapid speed—an average of more than 2540 mm (100 in.) per second, the 5-m (16-ft) door panels open fully in less than two seconds. In an operation like this, extra seconds can add to days of wasted time over the course of a year.
Sustainability
For cold-storage operations, the temperature differential between the freezer room and the chilled dock can be around 22 C (40 F). A high doorway typically has about 15 m2 (160 sf) of exposure area. The exchange of air between the cold- and dry-storage rooms as well as the loading dock can result in a significant loss of mass airflow.
Low-temperature, high-speed doors reduce air infiltration with fabric panels covering the doorway. Some models even feature insulated panels providing additional R-value.
Recent research has found high-speed models can more than compensate for any of the doors' insulation deficiencies. Further, when a door is cycled more than 55 times a day, a high-speed saves more energy than a standard one.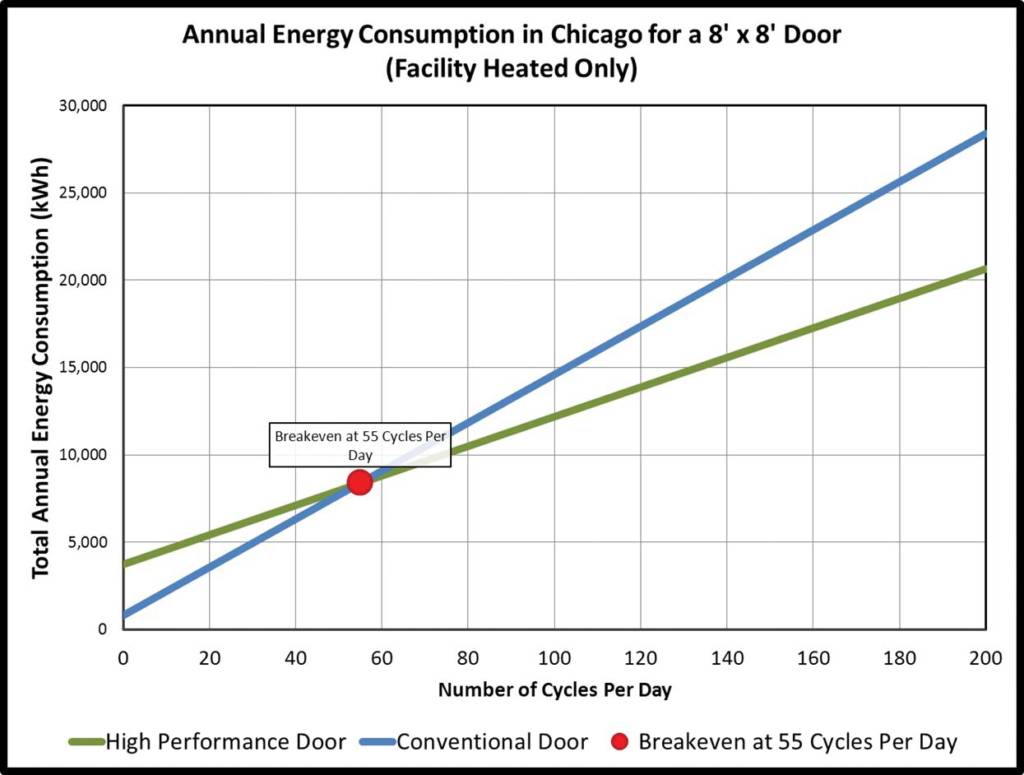 In a busy facility, 55 cycles can occur in a matter of few hours. At this kind of doorway, energy loss is greater through convection than conduction (Figure 1).
When closed, a high-speed door does an excellent job of sealing the doorway along the entire perimeter. Along the sides of the panel, guides envelop the edges to stop energy from escaping the room. Combined with a floor-hugging gasket and brush gaskets along the header, cold air is contained.
For Palermo's operation, with freezer storage near production, there are both sustainability and productivity concerns. Daniels notes that with their freezer at – 22 C (– 15 F), "every time the door opens, I lose refrigerated cold air to my production space."
While Daniels cannot share quantifiable figures on energy savings from high-speed doors, he says there is a change in his compressor usage.
Ensuring product quality
The advantage of cold-storage rooms that use automated storage and retrieval systems (AS/AR) is that there are no forklifts crossing the threshold. However, powered industrial trucks are still needed to traverse the area, carrying product from the room to the loading dock doorway. Moreover, these automation systems can be cost-prohibitive for many operations.
Preferred Freezer Services (PFS) has a 28,316-m3 (10 million-cf) facility in Elizabeth, New Jersey, which utilizes 12 insulated high-speed doors for entry into their automated, lights-out freezer. Combining the use of high-speed doors and dehumidification system on the dock, PFS is seeing a significant reduction on the load to the refrigeration system and more comfortable working conditions on the dock. This setup also ensures minimal exposure to dock temperatures and keeps the product frozen solid.