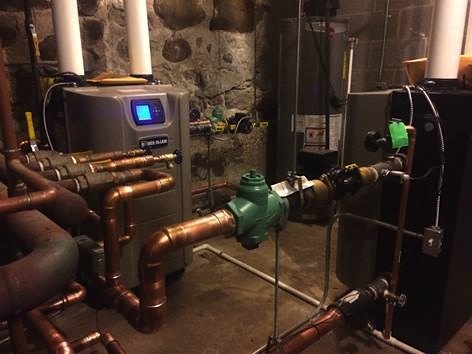 With failing boilers and an inefficient heating system, Zion Episcopal Church in Oconomowoc, Wisconsin, needed help. New, high-efficiency condensing boilers provided the answer to their heating woes.
The church is a landmark founded more than 150 years ago. In 1846, the Rt. Reverend Jackson Kemper—the first missionary Episcopal Bishop—established the Zion Episcopal community. The present-day stone church located on Fowler Lake was built in 1889.
"Our heating system consisted of four 12-year-old, 199-MBH [multiple BTUs) per hour]," said Linda Georgeson, senior warden with Zion Episcopal Church. "Two of the four boilers were no longer functioning, and we were convinced the other two would fail because one was leaking. We were quite distressed to have such failures on this large purchase of units that were considered state-of-the-art when we bought them."
The boiler manufacturer offered to honor the warranty and install new units, but Zion declined. Instead, Georgeson requested bids from three mechanical contractors.
"We invested a lot of time researching and evaluating commercial boilers and reviewing the proposals we received," said Georgeson. "In an open meeting of the church, we charted cross comparisons of all of the different units, associated costs and warranties, and who would handle installation."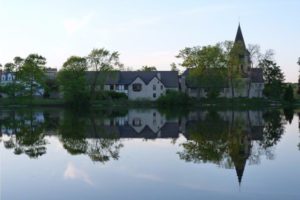 In September 2015, church staff determined it was time to proceed with the project, and the units were installed in October.
Four failing boilers were replaced with 299 MBH and 399 MBH ones; they were installed as a multiple boiler system (MBS) using a serial communication protocol feature—this refers to the process of sending data one bit at a time, sequentially, over a communication channel. In this configuration, a master boiler controls the modulation and sequencing of boilers on the network to achieve the desired system supply temperature.
The new units offer simple control, flexible functionality for multiple applications, and a durable design. They are adaptable for most heating needs including light commercial or large residential applications, and for single- or multi-boiler installations.