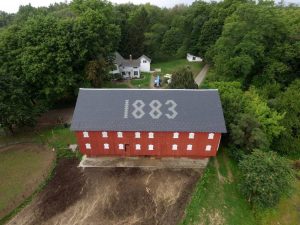 Back in 1883, a timber-framed, standard Pennsylvania-style barn was constructed with a real slate roof on the homestead of the Hartong family in Green, Ohio. After more than a century of service, the worn out slate roof—and the rotting wood structural support system beneath it—have finally received a facelift.
"The structure was deteriorated beyond repair and had been leaking enough to adversely affect the wood batten nailers," says architect Chas Schreckenberger, AIA, and principal of Braun & Steidl Architects. "Since this was a historic structure, our first choice was to replicate the original slate. When costs would not allow that, we investigated more economical slate alternatives."
A single-width composite slate roof was employed because of its lightweight composition, affordability, and durability. The specified tiles enabled the project team—which included Christian & Sons, Inc. and Absolute Roofing—to retain the historic character of the barn, even to the point of recreating the large "1883" date on the roof.
The challenge of recreating the date as well as detailing the entire roofing job for the Hartong barn required a great deal of collaboration between the different teams working on the project. Additionally, the product was slightly different in dimension from the original slate, so it took several layouts to accurately recreate the date.
The Ohio Historic Preservation Office awarded a grant to finance the roof's replacement. The roof frame reconstruction and tile installation took about six months in the spring of 2016. The project received the Contractor of the Year Award from the National Association of the Remodeling Industry (NARI) in 2016 in the commercial specialty category.
Reflective of the Pennsylvania German heritage of the Hartong family and the community in the 1880s, the 13.7- x 27.4-m (45- x 90-ft) timber-framed barn rests on a tooled sandstone foundation. Finished with vertical wood boards, the barn is owned by the City of Green and is part of the Levi J. Hartong homestead, which includes a farmhouse, summer kitchen, milk house, and other outbuildings.
The city purchased the property more than a decade ago and it was placed on the National Register of Historic Places in 2007. The Summit County Mounted Unit has stabled their horses at the barn, which is located in the Southgate Park.
"The farmstead represents patterns in agriculture and architecture from the 19th century in our area. We are excited to have the new roof overhead that so perfectly replicates what we believe the original roof looked like in 1883," says Sarah Haring, community development administrator for the City of Green.