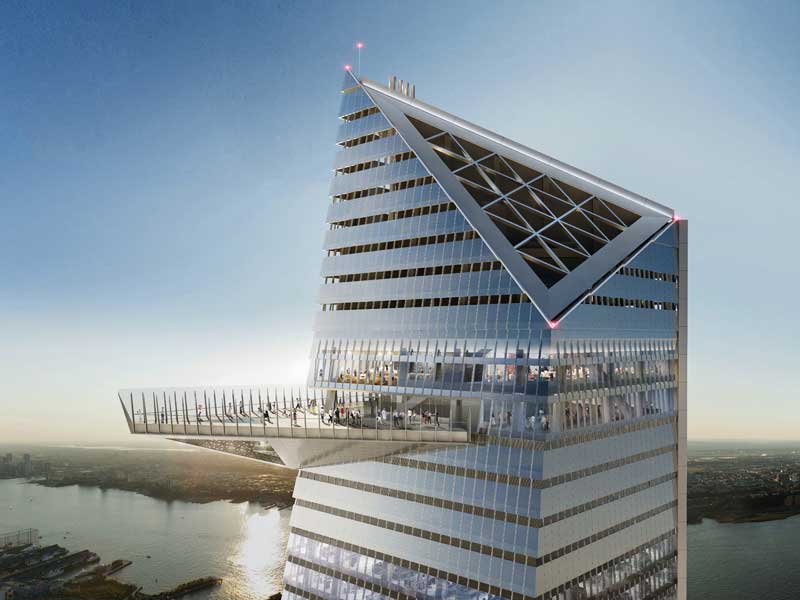 Construction has begun on Hudson Yards' Observation Deck in New York City, which the designers say will be the highest outdoor observation deck in the Western Hemisphere and the fifth highest in the world.
Designed by Kohn Pedersen Fox, the deck is part of a new neighborhood development project at Hudson Yards in Manhattan's West Side area. Upon completion, Hudson Yards Observation Deck will stand more than 305 m (1000 ft) in the air and extend 20 m (65 ft) from 30 Hudson Yards, offering unobstructed views of the Manhattan skyline and Hudson River.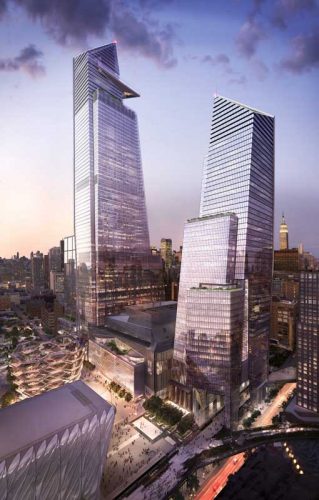 "The design of our towers at Hudson Yards is based on our intention of making overt responses to all aspects of the surrounding urban landscape," said Bill Pedersen, partner with Kohn Pedersen Fox. "The most dramatic of these gestures will be the observation deck which cantilevers 65 feet out into space from the top of 30 Hudson Yards reaching out, almost as an invitation, to all of Manhattan."
The observation deck will be comprised of 15 primary sections, each weighing between 15,875 and 45,359 kg (35,000 and 100,000 lb). Bolted together and anchored to the east and south sides of the building, the 346,998 kg (765,000 lb) observation deck will create a 697-m2 (7500-sf) outdoor viewing area, which will include a windowed floor, overlooking the neighborhood below. The deck will be enclosed in a 2.8-m (9-ft) tall angled glass wall.
The tower at 30 Hudson Yards will measure at 395 m (1296 ft). It will include commercial space for DNB Bank, Kohlberg, Kravis & Roberts (KKR), Time Warner, and Wells Fargo. The building, which is designed to achieve Leadership in Energy and Environmental Design (LEED) Gold certification under the U.S. Green Building Council, will also feature direct access to the New York City Subway.
"Construction of the observation deck is the next major milestone in bringing Manhattan's newest neighborhood to life," says L. Jay Cross, president of Related Hudson Yards. "When it opens, the Hudson Yards Observation Deck will serve as the new focal point for the west side skyline."
The tower is scheduled to open in late 2019.
To read more, click here.