Honoring excellence in SPF application
April 24, 2018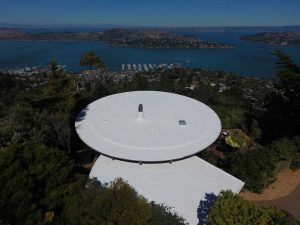 The Spray Polyurethane Foam Alliance[2] (SPFA) announced the winners of the 13th annual SPFA National Industry Excellence Awards, recognizing outstanding projects in the spray polyurethane foam (SPF) sector in roofing, insulation, specialty applications, and elastomeric coatings. Winning projects were announced at the Sprayfoam 2018 Convention & Expo[3] in Mobile, Alabama.
"These awards recognize the year's best-in-class industry projects," said Kurt Riesenberg, SPFA executive director. "We are really proud of this year's award winners as they showcase not only best practices in the application of materials, but also the exceptional performance and energy efficiency of spray polyurethane foam in a variety of structures."
This year's recipients include:
SPF Roof Under 40,000 Square Feet: Wedge Roofing[4], Mario Corbett Round House (Sausalito, California);
SPF Roof Over 40,000 Square Feet: United Thermal Systems[5], Marquardt Switches (Cazenovia, New York);
Specialty Applications: RPC Industries[6]–Jackcrete Division, Interstate 264 Midtown Elizabeth River Tunnels Wall Joint Sealing and Void Fill (Portsmouth and Norfolk, Virginia);
Elastomeric Roof Coatings: West Roofing Systems[7], Colonnade Roof Towers Metal Roof Restoration (Birmingham, Alabama);
Commercial Wall Foam: Elite Insulation[8] & PolyPro[9], Keezell Building–Matchbox Realty and Management Services (Harrisonburg, Virginia); and
Residential Wall Foam: SDI Insulation[10], Jacobson Residence (Stanford, California).
To read more, click here[11].
Endnotes:
[Image]: https://www.constructionspecifier.com/wp-content/uploads/2018/04/edit_Under-40-000-sf_courte.jpg
Spray Polyurethane Foam Alliance: http://www.sprayfoam.org/
Sprayfoam 2018 Convention & Expo: https://www.thesprayfoamshow.com/
Wedge Roofing: https://www.wedgeroofing.com/
United Thermal Systems: http://www.unitedthermalsystems.com/
RPC Industries: http://www.rpcindustries.com/
West Roofing Systems: https://westroofingsystems.com/
Elite Insulation: http://www.eliteinsulation.net/
PolyPro: http://www.polyprollc.net/
SDI Insulation: http://www.sdi-insulation.com/
here: http://www.sprayfoam.org/spray-polyurethane-foam-alliance-announces-winners-of-the-13th-annual-spfa-national-industry-excellence-awards
Source URL: https://www.constructionspecifier.com/honoring-excellence-in-spf-application/
---