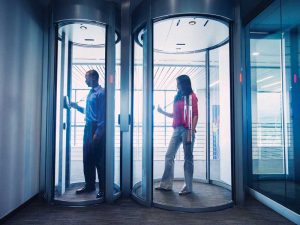 While artificial intelligence (AI) has made an impact in a myriad of technology sectors, it is still in its infancy in the physical security industry. AI's ability to simulate the human intelligence process by acquiring and learning certain tasks and behaviors is well suited for some of physical security's redundant tasks. The artificial neural network (ANN) is at the heart of this learning process, as thousands of sensors mimic the human brain by absorbing data and information from its environment, assessing its meaning or threat level through its sensory devices, such as video cameras, access control and secure entrance systems, Internet of Things (IoT)-powered devices, and social media and other big data resources to then coordinate the appropriate response.
John Carter, co-founder of a smart security solutions provider, wrote in a SIA Technology Insights newsletter, "No physical security devices have benefited more from AI than physical access control systems. When integrated with an AI-based solution, an access control system can now quickly react to threats and adjust permissions accordingly. Having the ability to identify anomalous events, insider threats, and hazardous situations and dynamically change permissions is a major breakthrough for the physical security world."
The use cases for AI in access control and secured entrances are many, ranging from its ability to identify unusual activity like off-hour and abnormal access to the creation of a risk-adaptive entry process that would prevent ingress and egress to areas posing a potential danger to staff or employees. While turnstiles may not have changed dramatically in form, their use within a layered security solution can provide invaluable data to an AI-based system. Anomalous traffic patterns or unusual access can be identified before individuals reach higher security areas. Randomized spot checks, controlled throughput, and directed traffic flows can be initiated and managed via intelligent, risk-based solutions as threats are detected.
Thanks to the rapid growth of AI it translates into a safer environment
According to research and analysis firm ABI Research, the total installed base of devices with artificial intelligence capabilities will grow from $2.7 billion in 2019 to $4.5 billion in 2024. Global spending on AI systems will hit $97.9 billion in 2023, which is two-and-a-half times the 2019 spend, according to market intelligence firm IDC's Worldwide Artificial Intelligence Systems Spending Guide.
There is good reason for this rapid growth. The use of artificial intelligence improves operational efficiencies and system effectiveness with a number of additional benefits. Organizations can save costs, improve security, provide better customer service, reduce negative environmental impact, and possibly even save lives using AI.
That is not just hyperbole. For example, without a doubt, the most pressing problem facing governments, families, and every organization around the world right now is the COVID-19 pandemic. In the recent past, biopharma companies have adopted artificial intelligence to help solve health problems by locating meaningful patterns within extremely large data sets. Medical publication Fierce Biotech notes, according to Arvind Ramanathan, a technology leader at the U.S. Department of Energy's Argonne National Laboratory, the lab is providing supercomputing resources to a public-private consortium of COVID-19 researchers right now.