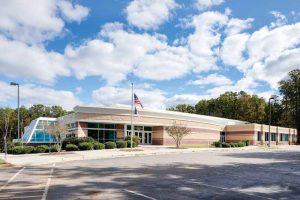 By Dave Jackson
In North Carolina's Research Triangle area, which includes cities such as Raleigh, Durham, and Cary, local architects choose masonry as the preferred building material to achieve a modern, clean look for the pharmacological and, bio-research, and technological firms flocking to the region. Nicknamed "The Triangle," the area's rapid growth has spurred satellite businesses and the need for services.
Carolina architects rely on masonry for its host of benefits, including durability, thermal performance, fire protection, cost efficiency, and aesthetics. However, designing with masonry creates several challenges to overcome along the way.
Due to the complexity of estimating and ordering, and the vast number of individual units required for projects, masonry can be challenging to model in existing software, extremely difficult and perhaps not entirely impossible. Commonly used modeling platforms, which are more focused on steel or monolithic wall structures, are not equipped to manage the amount of data in a masonry project. The result is a significant burden on the designer to manually produce and maintain 2D content for patterns, sections, details, and specifications. It also requires a large amount of manual work to create the high-quality renderings project owners are expecting.
Michael Sutton, AIA, LEED AP for integrated design in Raleigh, North Carolina, has experienced the frustrations and limitations of masonry modeling first-hand. In 2019, he designed a multi-phase renovation of Cary's Triangle Aquatic Center, a two-story, 5574-m2 (60,000-sf) facility, which added close to 1207 m2 (13,000 sf), along with 500 parking spaces. In addition, two new buildings also accommodate a new fitness center, a multi-purpose room, and a 50-m (164-ft) outdoor pool.
The existing aquatic facility had a complex masonry facade which included a mixture of three colors, two textures, and two sizes. During Phase 1, Sutton used a modeling platform and manually applied color through photo design software to produce the required elevations for the town's review and approval.
For Phase 2, he used Masonry iQ, a plug-in that automates much of the  manual modeling work. This tool helped deliver design flexibility, modeling accuracy, and photo-realistic rendering capabilities, allowing Sutton to focus more on designing, rather than modeling.
The cloud-based plug-in was developed to address the inability to properly model masonry in current architectural design software. It maintains the workflows design professionals are already familiar with, but adds more capabilities for automatically handling the most time-consuming elements of masonry modeling, without impeding the model.
"We know how crucial it is to have an accurate model early on in the process, so there are no surprises from design to spec, to bid to production," says Tom Cuneio, founder and president of 3DiQ Inc., the developer of the plug-in. "That is why Masonry iQ was built with precise modeling in mind. We are merging masonry models with data, so a design can directly yield a production order in a fully automated way, with less manual intervention and opportunity for human error."
Modeling colors, shapes, and sizes
According to Cuneio, masonry has been difficult to model using existing tools because of its complexity, such as different shapes, sizes, colors, and textures; and the sheer number of units, even in a moderately sized project.