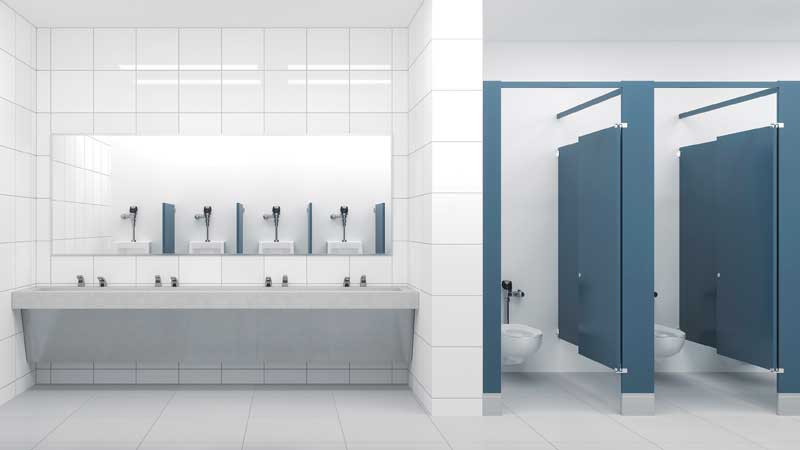 by Patrick J. Boyle, CSP
The commercial restroom is at the epicenter of a critical environmental consideration—water. Recent innovations have elevated the commercial restroom as an opportunity to drive sustainability, performance, and design for architects, engineers, and project managers. From water-saving systems to innovations reflecting the total product life cycle, outdated industry standards—even those of only 15 or 20 years ago—are being turned on their heads thanks to key advances in technology, affordability, and human ingenuity.
Commercial restroom environments of all types present growing challenges requiring water-efficient products that do not compromise design, quality, performance, the environment, or human health. The evolution in approach to restroom sustainability practices begins with the turn of the 20th century. William Elvis Sloan revolutionized the plumbing industry in 1906 with his invention of the flushometer, which replaced tank-and-chain fixtures, saving water and energy.
Efficiency and sustainability reign
Awareness of the environmental impact of design has grown, sprouting new ventures to manage and advance sustainable design. In the 1990s, advancements included the Federal Energy Policy Act of 1992 (EPAct), which was the first major federal legislation mandating maximum water consumption for toilets at 6 L (1.6 gal) per flush (i.e. Lpf/gpf), urinals at 3.8 Lpf (1 gpf), faucets at 8.3 L (2.2 gal) per minute (i.e. Lpm/gpm) and showerheads at 9.5 Lpm (2.5 gpm).
The U.S. Green Building Council's (USGBC's) Leadership in Energy and Environmental Design (LEED) program launched in 1993, mandating a 20 percent reduction from the previous EPAct baseline for toilets and urinals. As the program evolved, LEED also required the specification for WaterSense-labeled products. The WaterSense program was designed in 2006 by the U.S. Environmental Protection Agency (EPA) to promote and enhance water-efficient products. This boom of environmentally focused organizations and programs reflected the growing global concerns of the effects that buildings have on the environment and promoted better strategies and solutions.
These initiatives prompted the advent of the 'low-flow' toilet with a focus on reducing water usage. Prior to these water closet advancements, it was common for 19 to 22.7 L (5 to 6 gal) of water to rush down the drain with each flush. Today, more commercial restroom product manufacturers are offering toilets that use as little as 4 Lpf (1.1 gpf) and urinals can reach as low as 0.5 Lpf (0.125 gpf). For example, high-efficiency toilet (HET) systems, at about 4 Lpf, boast approximately 37 percent more water savings than a 6-Lpf toilet, while pressure-assist units can use less than 3.8 Lpf without sacrificing performance, resulting in up to 46 percent more water savings.
Some urinals are now water-free and can conserve as much as 151,416 L (40,000 gal) of water per unit annually. Water-free urinals typically consist of a vitreous china fixture and a cartridge, the latter of which is the heart of the system—it provides an airtight seal from the drain and the restroom so as to prevent odors from escaping. The cartridge also acts as a trap, collecting sediment and allowing waste to pass easily down the drain.