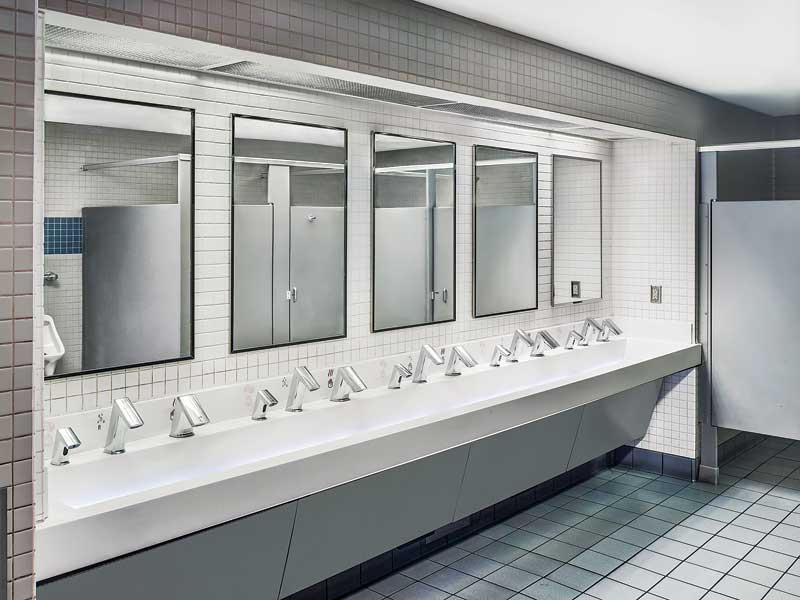 The next evolution was the innovative hybrid urinal, which uses a unique technology first introduced in 2015. This technology keeps urinals and drain lines clean, hygienic, and free of both odors and clogs. Water-free operation, combined with a programed water purge, prevents calcite from forming and easily removes any small amounts of the phosphate mineral struvite from forming in the drain line.
Hybrid urinals are essentially water-free urinals that use a solenoid valve to automatically inject water into the drain line, right where calcite and struvite buildup causes the most issues. The water injection is pre-programmed on a timer and eliminates the need to manually clean the line. Newer hybrid and water-free models are also easier to maintain thanks to an improved, multi-patented cartridge that reduces odors and better retains sealants. The latest designs also have a greener footprint, with a cartridge that employs 20 percent less material than previous models.
New faucets and sink systems are also making sustainable design easier to achieve. Battery- and solar-powered faucets are touchless and can contribute to water savings of up to 40 percent. The key advantage of solar products is they consume less battery power, and their power source extended by the ambient light in the room by two to three times the normal life of a regular battery-powered product. However, battery-powered products require a maintenance staff to change the batteries as needed and dispose of them into a landfill.
Integrated sink systems can allow for sensor-activated faucets with customizable flow rates ranging from 1.3 to 5.7 Lpm (0.35 to 1.5 gpm), which saves up to 67 percent more water than traditional systems using 5.7-Lpm faucets. Similarly, highly efficient deck-mounted hand-dryers reduce waste by eliminating the need for paper towels.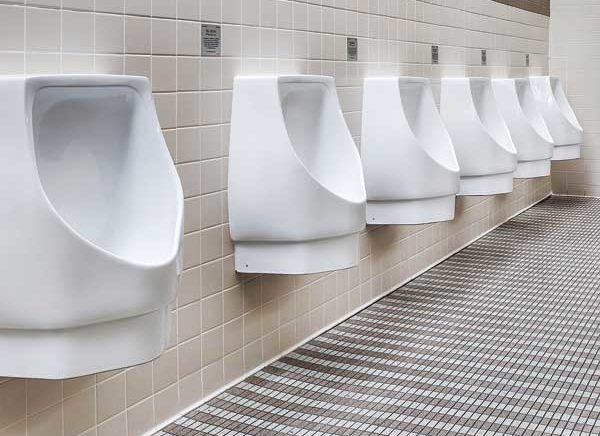 Balancing conservation and sanitation
Advancements in water savings do not come without concerns. There is a fine balance between sanitation and conservation, and water reduction can only go so far before compromising hygiene.
One facility that has become a showcase for restroom sustainability with a focus on sanitation is the Los Angeles International Airport (LAX). This global gateway sees thousands of people pass through its doors daily with non-stop flights to more than 100 U.S. locations and 40 countries. Airports run 365 days a year, so restroom maintenance is a costly demand. As with many high-traffic restrooms, LAX experienced sanitation issues, including paper towels and water on the floors in the sink area.
Part of the airport's $14-billion modernization project, which aimed to maximize sustainability, efficiency, and aesthetics, included both new and updated restrooms throughout the facility. Engineers from Syska Hennessy specified many of the commercial restroom products they knew could handle the high volume of users, while also making an eye-catching first impression.
The result of the modernization was significant water conservation improvements, simplified maintenance, and a sophisticated look. The airport installed several integrated sink systems with touch-free soap dispensers, automatic sensor faucets, dryers, and sink basins that aligned with their design and efficiency goals. The elements are designed to work together, creating a more efficient system that saves water and reduces energy consumption and paper waste. Further, some models are manufactured with solid surfacing that utilizes recycled materials.
High-efficiency urinals (HEUs) have a maximum flush volume of 1.9 Lpf (0.5 gpf) or less, and must meet the performance requirements of American Society of Mechanical Engineers (ASME) A112.19.2, Ceramic Plumbing Fixtures. Due to this efficiency, HEUs for LAX met the EPA's WaterSense criteria; the automatic faucets used around 1.9 Lpm, meeting the state's strict green building code, CalGreen.
With just under 75 million passengers passing through the airport last year, the facility saves 4.7 Lpf (1.25 gpf) on average, according to Los Angeles World Airports, the city department that owns and operates LAX. This represents a 22 percent reduction of potable water use per unit.