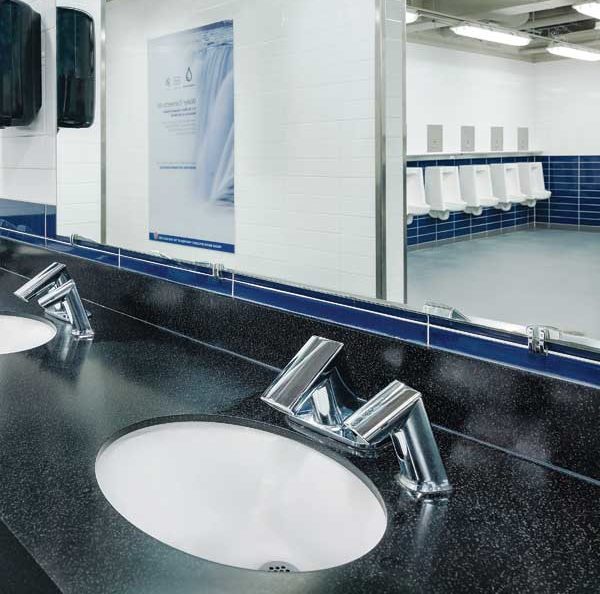 The amount of energy required to extract or pump water from its source, and then treat and purify it to potable drinking standards, is significant. Potable water is pumped, sometimes over long distances and varied terrain, to the end-user, who may heat that water, producing more carbon. The used water is then collected and treated at a wastewater treatment plant before being released back into the environment.
There are various ways to reduce this footprint. Some areas of the country are using more onsite and/or municipally supplied reclaimed water in conjunction with high-efficiency fixtures and fittings. Others are seeing results by implementing stricter local codes and providing education on water stewardship.
According to the EPA, restrooms consume about 37 percent of the total water usage in a typical office building, and 45 percent of the water in a typical school. Architects and designers are considering other non-potable water solutions, although the solutions come with limits.
Alternatives include utilizing reclaimed water or greywater for flushing toilets and urinals when feasible and allowable by code. There is no difference in the function of a commercial restroom product that taps into alternative water sources. The primary limitation is the lack of a universal plumbing code that allows for the easy use of reclaimed water.
Reclaimed-water flushometers have recently become available and are an increasingly popular solution, especially in drought-stricken areas. Reclaimed water has long been used for agriculture and landscape irrigation. Although it has higher chemical concentrations than potable water, its use can be ideal for reducing water usage in commercial toilets and urinals thanks to new, innovative solutions specifically designed for reclaimed water systems.
Some manufacturers have developed flushometers made with high copper, semi-red brass (which has a lower zinc content than the yellow brass used in traditional flushometers) that withstands the harsh chemicals found in potable water. Reclaimed water generally has many types of particulates and more constituents (e.g. salts and minerals) that make it harder than potable water. Although certain municipalities allow reclaimed water to be used untreated for subsurface irrigation, the water must be treated for all other applications.
Conclusion
As conversations arise around water's footprint and EPDs, HPDs, and DECLARE labels start becoming mainstream, many architects, engineers, and project managers have been prompted to keep restrooms top of mind and specify products that can help them achieve their complete design vision.
However, the next evolution may come when simply having a product certification is no longer a differentiator. Rather than accepting the certification at face value, in the next few years, specifiers will gain a much deeper understanding of the individual sustainability qualifications of each product. This revolution will also influence manufacturers to continuously improve and increase sustainability at every stage of a product's life.
The bar for safer, more sustainable products is always rising. Well-designed, high-quality restrooms combine aesthetics with performance that is safer for the environment, as well as people.
Patrick J. Boyle, CSP, LEED GA, is the director of corporate sustainability at Sloan Valve Company. He has 20 years of environmental and sustainability experience, and is responsible for creating and implementing  global sustainability programs to educate local and national architecture, design, and engineering firms on water stewardship. Boyle holds a master's degree in environmental management and sustainability, sits on the U.S. Green Building Council's (USGBC's) Water Efficiency Technical Advisory Group (WETAG), and is on the Executive Committee of the USGBC Illinois Chapter Board of Directors. He can be reached at patrick.boyle@sloan.com.