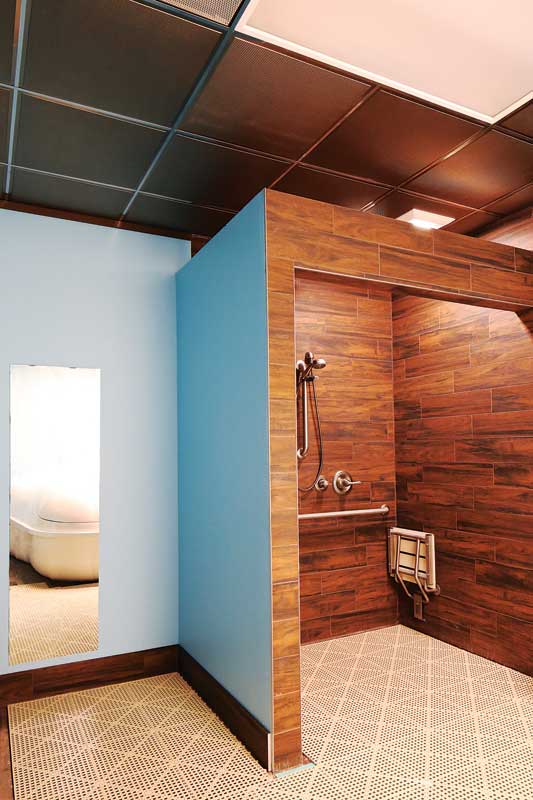 Metal
Metal panels can have excellent hygienic properties because they are cleanable, do not release fibers or dust, and do not support growth of mold or mildew. They can be produced in large sizes to reduce the number of joints capable of harboring contaminants.
Metal ceilings do not provide significant NRCs unless they have perforations—a feature that can be weighed against a project's hygienic constraints. Metal panels are not amenable to use in fire-resistance-rated floor-ceiling assemblies.
Anodized aluminum and factory-painted galvanized steel are popular material options. Consideration must be given to exposure to water and chemical fumes with the potential to contribute to corrosion.
Other chemical and physical interactions may also require attention. For example, the Non-traditional Isotope Research on Various Advanced Novel Applications (NIRVANA) laboratory at Woods Hole Oceanographic Institute could not use metal for ceilings or ceiling-mounted light fixtures due to the metal components' potential to interfere with critical trace metal analysis performed in the lab.
Fiber-reinforced plastic
Fiber-reinforced plastic (FRP) offers significant hygienic advantages, including:
resistance to moisture, fungi, and bacterial growth;
chemical and stain resistance; and
a sanitary, low-maintenance surface with easy cleanability.
FRP panels are available as thin-sheet products or as composites with various laminated backers. They are frequently used as companions to matching wall finishes.
Noise reduction characteristics are minimal with FRP products. Suitability for sound transmission and fire-resistance ratings depends on the backer materials selected. High temperatures above cooking or heating equipment can be a limitation on use.
Mineral fibers and inorganic filler in FRP are encased by polymer binders that reduce the release of naked fibers. Particulates can irritate eyes, skin, and the respiratory system, and chemicals in binders may be a concern in some hygienic situations. Manufacturer installation instructions recommend dust control measures and personal protective equipment when cutting or drilling.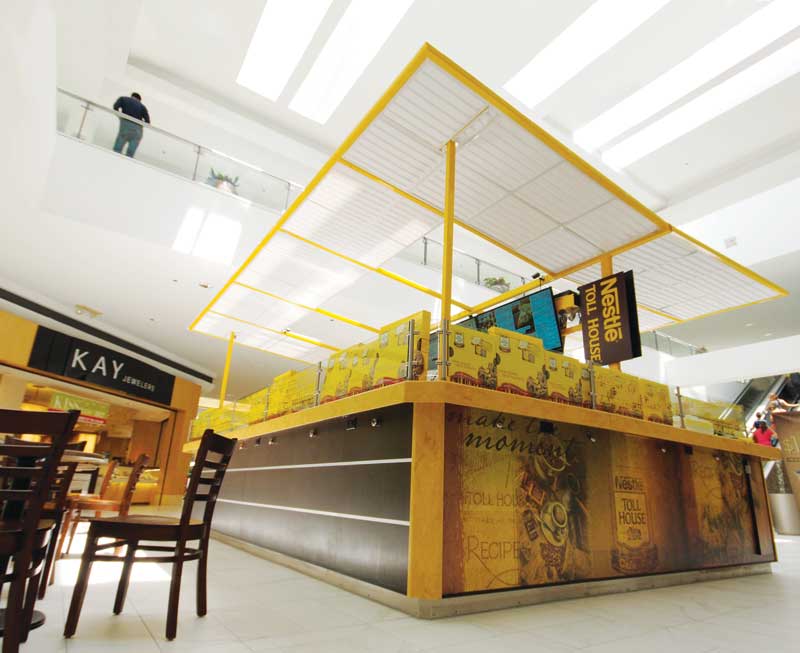 Thermoformed ceiling panels
Thermoformed ceiling panels are produced by molding thermoplastic materials with heat, vacuum, and pressure. Vinyl is the most widely used material for thermoformed ceilings. Its suitability for hygienic ceilings is apparent from everyday encounters with the material demonstrating its resistance to water, cleaning, and common chemicals, and by its use in medical and other products requiring sanitary conditions.
Advances in vinyl manufacturing processes have reduced its environmental burden. Specifiers should require rigid vinyl free from plasticizers, phthalates, and heavy metals. The material is recyclable in most communities as a Type 3 plastic, and some ceiling manufacturers take back jobsite waste and used panels to regrind and extrude into fresh vinyl sheets. Other thermoplastics can also be used, creating opportunities to match material performance with design requirements on a custom basis.
Thermoformed panels are available that have Class A surface burning characteristics and are Class V-0 (self-extinguishing) when tested in accordance with Underwriters Laboratories (UL) 94, Standard for Safety of Flammability of Plastic Materials for Parts in Devices and Appliances. They are not part of fire-resistance-rated floor-ceiling assemblies, but can be installed beneath such assemblies. High temperatures above cooking or heating equipment can be a limitation on use.
Acoustically, these panels act as a diaphragm to transfer noise from an occupied space into the above-ceiling cavity, where acoustical energy dissipates. This provides modest NRC and CAC ratings, which can be boosted with shallow thermoformed pans or a polyester-fiber insulation batts atop the panels. Not known to pose a health risk, the polyester fibers are the same grade as those used for clothing, bedding, and upholstery. Unlike mineral fibers, polyester fibers are long strands, not friable, and unlikely to release significant airborne particles. Neither the acoustical backer pans nor polyester insulation compromise ceiling's Class A surface burning characteristics. Higher NRCs are achievable if perforated panels are acceptable.
Despite being only 0.33 to 0.76 mm (0.013 to 0.03 in.) thick, thermoformed plastics are robust, able to flex without breakage during handling, and can be trimmed with scissors or snips without producing dust or releasing fibers. Most dirt and stains are removed by simple wiping with a damp cloth or sponge and, if necessary, mild soap or detergent.
Unaffected by moisture, thermoformed panels are not damaged when used in areas that are prone to condensation and leaks. Water from slow or occasional leaks can collect atop panels and then evaporate without damaging them. This may enable the panels to be used instead of special drainage systems beneath sweating pipes and equipment—a requirement in some healthcare and food processing facilities.
Of all the materials discussed in this article, the thermoformed ceiling category is the least well-known. This is not actually a new product, however, given that thermoformed panels were developed in the 1940s and enjoyed popularity in Mid-century Modern design. They are receiving fresh interest for their hygienic properties due to the introduction of new product options, intensive product testing, and new building code evaluation reports. (For more, see a previous article in The Construction Specifier by these three authors. "Thermoformed Ceiling Panels and Tiles" appeared in the September 2014 issue, and is available online at www.constructionspecifier.com/thermoformed-ceiling-panels-and-tiles.)