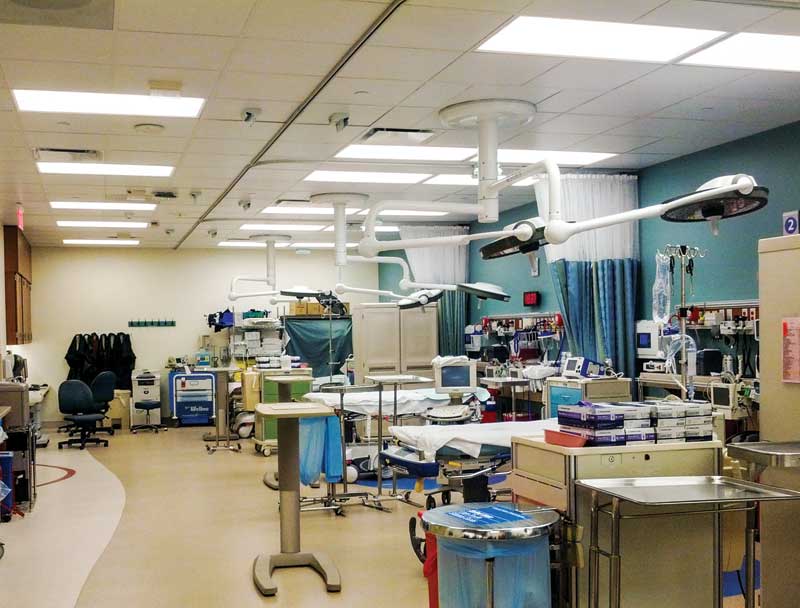 Topsy-turvy ceilings
To merit consideration as an alternative, thermoformed ceiling panels must offer unique attributes not available with other products. Indeed, thermoformed panels depart from other types of products in two significant ways, both of which involve inverting the normal relationship of a ceiling to fire sprinklers and light fixtures.
Drop-out ceilings
The 2016 edition of National Fire Protection Association (NFPA) 13, Standard for the Installation of Sprinkler Systems, defines a drop-out ceiling as:
a suspended ceiling system, which is installed below the sprinklers, with listed translucent or opaque panels that are heat sensitive and fall from their setting when exposed to heat.
This can be an important factor in designing hygienic spaces, because dirt can accumulate on exposed sprinklers and become a source of contamination. While concealed sprinklers can be used, they require cover plates that add unnecessary crevices and penetrations that may serve as openings for contaminants or insects to enter a space (especially if the space has a negative air pressure) or hinder cleaning.
Keeping sprinklers above ceilings protects them from discharging due to accidental impact or tampering. It also represents significant cost savings compared to extending sprinkler drops to penetrate ceiling panels because the coordination required between sprinkler and ceiling installers is reduced, allowing optimization of sprinkler system layout. In renovation, drop-out panels can be installed beneath existing sprinklers, resulting in additional savings. (For more, see "Drop-out Ceiling Panels Installed Beneath Fire Sprinklers," a Construction Canada feature from March 2015. Visit www.constructioncanada.net/drop-out-ceiling-panels-installed-beneath-fire-sprinklers.)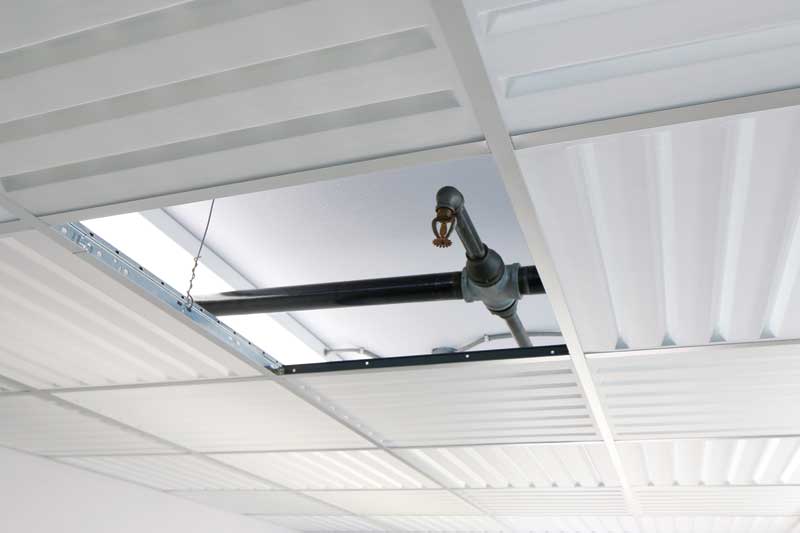 Luminous ceilings
Light-transmitting vinyl makes it practical to install thermoformed ceiling panels beneath light fixtures or skylights. This option relegates light fixtures to the cavity above the ceiling, outside the hygienic envelope—further reducing ledges and crevices for contaminants, as well as simplifying cleaning. Luminous ceilings can reduce construction costs because strip lights installed above the ceiling are usually less costly than hygienic-grade troffers or other surface-mounted or recessed light fixtures.
Translucent material creates diffuse illumination with little glare. Frosted material blurs the visibility of items above the ceiling and transmits more light than does translucent material, increasing lighting efficiency. Clear material provides even greater lighting efficiency and permits viewing of items on the other side of the ceiling; this feature allows above-ceiling equipment and utilities to be viewed from below, simplifying maintenance.
Putting light fixtures above ceilings improves the odds insects entering the hygienic envelope will be attracted to the area above the ceiling, away from the space requiring clean conditions. Use of the acoustical backer pans keeps insect litter off the ceiling surfaces to limit objectionable shadows. (The layout of lights and sprinklers should also be coordinated in order to minimize shadows.)
Spotting the trends
Contemporary social and technical dynamics could increase interest in hygiene in the built environment.
Antimicrobial treatments
Buildings are implicated in many diseases plaguing contemporary life. In addition to sick-building syndrome and building-related illness, contagious disease can spread rapidly when people live and work in congested facilities. This is most apparent with nosocomial (hospital-acquired) infection; other examples include Legionella that flourishes in warm water systems and salmonella that hides in crevices in food preparation surfaces.
One architectural response to infectious disease has been to specify products, including ceiling panels, with antimicrobial treatments. However, most authorities now recognize widespread use of antimicrobial products can ironically promote increased antimicrobial resistance in pathogens. In September 2016, the U.S. Food and Drug Administration (FDA) banned triclosan and 18 other antibacterial compounds from most consumer goods, saying ordinary soap and water is a healthier and safer way to decontaminate surfaces. (See the online article, "FDA Rule Casts More Doubt on Anti-microbial Building Products," by Bill Walsh, at www.healthybuilding.net/news/2016/09/07/fda-rule-casts-more-doubt-on-anti-microbial-building-products.) While the ban does not apply to building surfaces, the same logic does, suggesting specifiers give more attention to the intrinsic cleanability of products.