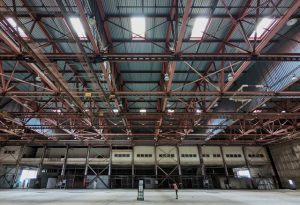 Architecture firm IBI Group will spearhead Cultural Terrace, a project to transform California's former El Toro airfield into a carbon-neutral cultural space.
Located adjacent to Irvine's Great Park on a 45 ha (110 acres) parcel of the former Marine Corps Air Station El Toro, Cultural Terrace will combine the re-use of two 13,006 m2 (140,000 sf) hangars and a 3716 m2 (40,000 sf) warehouse, with a revisioning of the surrounding landscape. Some programs proposed for Cultural Terrace are a museum complex, library, event space, community center, and city offices. Additionally, multi-purpose outdoor spaces will connect the buildings and offer new public space for the people of Orange County.
The project's team includes Dutch architects MVRDV, local architects MAAM, and landscape architecture firm Agency Artifact. Consulting firms Buro Happold, Langan Engineering, and Ryder Levitt Bucknell also plays a role in the evolution of Cultural Terrace.
As Mariam Mojdehi of MAAM says, "we see opportunities for the Cultural Terrace to be a teaching tool, making as much of the sustainability infrastructure, energy usage, and monitoring as visible and participatory as possible."