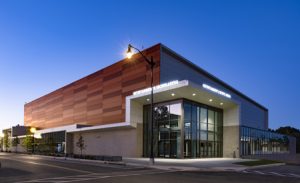 Washington D.C.'s Entertainment and Sports Arena (ESA) is a state-of-the-art, Leadership in Energy and Environmental Design (LEED) Silver-certified, multipurpose entertainment, sports, and cultural complex. The insulated metal panels (IMPs) used in the 10,963-m2 (118,000-sf) enclosure provides a sleek look, while offering a seamless addition to the nation's capital.
Located in a national historic landmark in D.C.'s Congress Heights neighborhood, ESA is surrounded by several red-brick buildings that are in the midst of redevelopment. It was an important goal of Event DC, the projects designer and builder, to have the building blend in with its surroundings, and IMPs helped achieve that.
One advantage of IMPs is the ability to choose from thousands of colors to meet the needs of the project. ESA's team came up with several shades of red to match the arena with its red-brick neighbors.
"The materiality of the historic buildings will be used for the building's common spaces to create a unified thread to its environment on the greater St. Elizabeths Campus," said Events DC in a statement during the design review process.
Another requirement from the owners was a wall assembly that did not utilize any exposed fasteners with the 4924 m2 (53,000 sf) of metal panels. They met the challenge by engineering a concealed fastener solution delivering a flat appearance without the need for exposed trim at the base, corners, or openings.
Additionally, using IMPs provided this project with a money-saving alternative. Originally, the plan called for terra cotta panels, but after seeing the cost, the architects changed the design to use IMPs, saving an estimated $100,000 to $200,000. IMPs also provide a high R-value with a high level of energy efficiency that will be especially important during D.C.'s cold winters and hot summers.