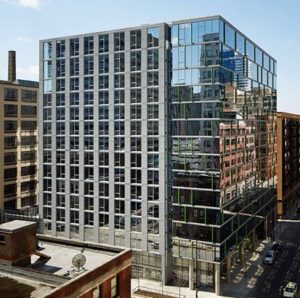 One of winter's most-obvious dangers is snow and ice buildup, which can create slipping hazards for vehicles and pedestrians, especially in areas such as parking garage ramps. This is exactly the problem JeffJack Apartments in downtown Chicago had to overcome.
The two-level garage features natural ventilation thanks to a chain-link fence wall granting it an open-air quality, but this also means it is exposed to ice and snow. To respond to this issue, the apartments installed 4800-watt, three-element infrared heaters. The 40 units are designed to provide spot heating in commercial and industrial areas.
"Chicago winter weather can wreak havoc on streets and quickly make driving and walking conditions unsafe," says Kenneth Maruyama, AIA, of Thomas Roszak Architecture, which directed the installation. Also involved with the project were electrical contractor Kelso-Burnett and an electrical equipment manufacturer's representative.
The units feature a steel enclosure and heavy-gauge anodized aluminum reflectors, and their ability to heat objects and people without altering air temperature makes them well-suited for this type of installation. However, this does not mean the project proceeded without challenges.
"The height of the garage was limited in some areas, which didn't lend itself to putting the heaters directly on the ceiling in those places," says Jeff Weir, branch manager with Kelso-Burnett. "Thus, we needed a design that allowed us to heat those spaces another way."
To allow appropriate vehicle clearance in such areas, the team provided a custom mount allowing the heaters to be tilted and installed them along side walls. The standard mount was used in less-cramped spaces where heaters could be placed above and parallel to the ramp.
"The radiant heaters have worked efficiently through our second winter now with no issues whatsoever," says Carlos Rosario, chief engineer of JeffJack Apartments. "The units prevent snow from accumulating on the ramps and freezing, which would be a major issue for residents trying to drive on or walk down the ramps."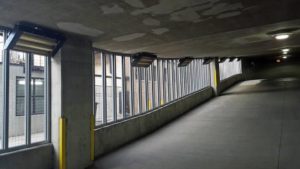 Additionally, during the construction process, conduit and junction boxes were placed in the concrete and wire-fed to the units, providing electrical power. The units are also connected to a sensor able to detect and measure moisture and temperature, which causes them to automatically turn on in response to specific levels of moisture or temperature. Although manual controls are also an option, this automation is one of the factors that makes the heaters so well-suited for this installation.
"I always have the sensor on because it's more efficient, and I don't always have time to monitor the conditions myself," says Rosario. "The heaters activate when the conditions warrant it. These heaters have really made my job easier, and I know that building residents really appreciate them too."