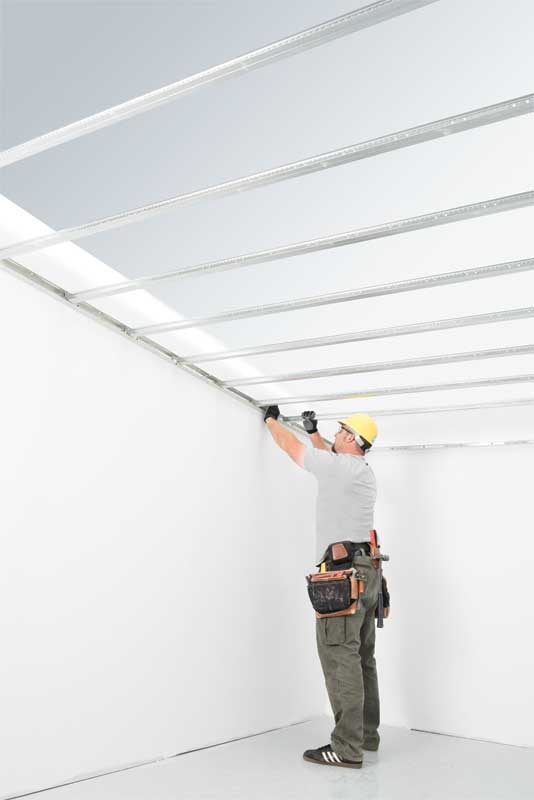 by Tom Murray, CSI, CDT
Just about everyone has a routine. Whether at work or home, we find ways to make our lives easier, simpler, or more comfortable by repeating habits. We buy the same brands and products, take the same route to the office, and also vacation in the same beach house year after year.
When it comes to specifying building products, old habits can lead to missed opportunities. It is easy for familiar brands and products to become the go-to choice for nearly every project. Master specs rarely change once the "right" product is found, yet client needs, budgets, and installation methods are constantly shifting alongside evolving trends.
One reality has not changed: time is money for architects, designers, builders, and construction professionals. This is especially true when it comes to ceiling installations—a labor-intensive task that is typically completed at the very end of a project when time has all but run out.
In response to these industry needs, manufacturers are producing ceiling systems and accessories that install quickly and easily for better value and maximum productivity. There are more options than ever before.
It is important for architecture and design professionals to know their specification for ceilings can contribute to the on-time delivery of the overall project. As new products continue to come on the market, it is also pertinent for contractors and subcontractors to be aware of new ceiling solutions and systems combining fast, efficient installation with strength and stability.
This article explores key trends, available time-saving solutions, and a relevant case study exploring how 1494 m (4900 ft) of corridor drywall grid was completed in just four hours. It is clear these specialty products directly impact a project's bottom line.
Industry demands are creating real change
The modern suspended ceiling with an interlocking grid system was first employed in the 1950s and has changed very little since then. (For more information, visit media.cleveland.com/metro/other/brown-patent.pdf.) New materials have provided enhanced acoustic performance, while design-forward finishes, sizes, and applications have transformed the use of grid ceilings in commercial interiors, but the basic design remains the same.
One major drawback of both traditional grid systems for suspended ceilings as well as drywall ceiling grid becomes evident during installation. Time-consuming and tedious, installation involves multiple steps including securing wall molding and utilizing fasteners and hanger wires to install the suspension system. In addition, time for hanging main runners and cross tees, squaring off the grid, cutting border panels and then installing panels, must be considered. The process requires a significant amount of labor—far outpacing the cost of materials.