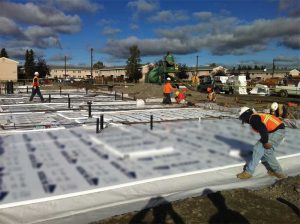 With less heat-conducting moisture present, the kitchen and storage center's thermal performance also improves. EPS' high, continuous R-values further benefit the facility's overall thermal performance. With the rigid foam solution's ability to maintain insulating effectiveness for up to 20 years in some cases, EPS can contribute to lower energy costs, in line with project goals. As one can imagine, higher energy costs are a significant expense in operating a cold storage facility and can negatively impact bottom lines. However, by decreasing the amount spent on monthly cooling costs, the APS district can allocate dollars elsewhere to implement progressive student programming, better support classroom teachers, and more.
Understanding the compressive strengths of various rigid foam insulations is also crucial to saving project dollars. For example, when insulation is over-engineered, it can lead to expensive, unnecessary material costs. In contrast, cost-effective, properly engineered compressive strength insulation can meet sub-slab insulation requirements and better accommodate budgets. In the case of the APS project, the commercial concrete contractor installed two layers of 76-mm (3-in.) thick EPS with the strength of 276 kPa (40 psi) rather than three layers of 50-mm (2-in.) thick extruded polystyrene (XPS) rigid foam insulation. This not only met the cold storage's compressive strength mandates, but also saved the contractor approximately $20,000 in material costs.
This economical compressive strength, together with EPS' water-resistant proprieties and ability to resist the flow of hot or cold over the project's lifetime made the rigid foam insulation a fitting choice for the facility's sub-slab freezer floor. Further, the material lowered the district's utility bills and maximized energy efficiency, a resource savings helping the project ultimately achieve Leadership in Energy and Environmental Design (LEED) certification.
EPS affords military personnel warm and comfortable housing
In stark contrast to Albuquerque, applications in subarctic climates that are subject to long, cold winters and short, warm summers also call upon EPS. Take Fort Greeley, for example. Located two hours southeast of America's coldest city—Fairbanks, Alaska—the army base's proximity to the Arctic Circle posed a unique set of challenges for the team that was tasked with constructing military housing for more than 1700 service members and Department of Defense personnel. With EPS installed below-grade, the construction crew was able to achieve its mission of creating a structurally sound, warm, and energy-efficient home environment.
Specifically, the building team installed 300 mm (12 in.) of EPS with advanced polymeric laminate facers vertically and horizontally on the housing units' foundation perimeters and on the bottom of the 150-mm (6-in.) concrete slab to prevent seasonal frost heave. Heaving can occur when –26 to –32 C (–15 to –25 F) frigid temperatures penetrate the ground and cause  ice to form and displace the soil. With this phenomenon, abrupt bumps form on the surface, potentially causing the foundation to crack and fail. However, the presence of EPS insulation thwarts this process due to its moisture-resistance and ability to withstand freeze-thaw, as mentioned above. Another example is an airport control tower in Galena, Alaska, where builders used the rigid foam to safeguard the slab-on-grade foundation. Despite the temperatures dropping to –51 C (–60 F) for weeks on end, there has been no frost heaving or differential settlement.
The use of EPS below-grade was also key for delivering a warm interior, while meeting project energy goals. Studies such as a joint research project by the Expanded Polystyrene Association of Canada (EPAC) and the National Research Council Canada/Institute for Research in Construction (NRC/IRC) have confirmed the rigid foam retains its R-value even after exposure in an exterior below-grade application that is subjected to in-situ freeze-thaw cycling (for more information, read N. Normandin, W. Maref, M.T. Bomberg, and M.C Swinton's "In-Situ Performance Evaluation of Exterior Insulation Basement Systems [EBIS] – EPS Specimens," a National Research Council Canada [NRC] report). In effect, the material provides resistance to the escape of heat over the long-term to maintain a comfortable indoor environment. This consistency also generates reduced heating costs, helping the military housing project meet the stringent LEED for Homes Silver Level energy-efficiency requirements.
Conclusion
A proven solution for below-grade insulation, EPS offers moisture mitigation, long-term thermal performance, and compressive strength—physical, thermal, and mechanical properties crucial to foundation-level projects. Due to its versatility, building professionals can cut the rigid foam into sheets, slabs, or any desired shape to meet specific below-grade needs, whether in a commercial cold storage facility in New Mexico or on the bottom of military residential housing in Alaska. EPS further provides builders with the ability to meet energy-efficiency requirements, without sacrificing durability and strength for enduring foundations supporting today's structures well into the future.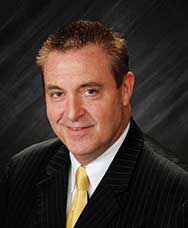 Kevin Keith is the regional sales director for Insulfoam, a division of Carlisle Construction Materials. Keith has worked in the building products industry for 27 years with an emphasis in commercial roofing for 12 of those years. He can be reached at kevin.keith@insulfoam.com.