Project approach
For the research project highlighted in this article, the team used ORNL's two-story Flexible Research Platform to test wall assemblies and generate a validated case study. Energy-efficient and cost-effective solutions, identified through extensive evaluations conducted for the building at the Navy Yard, formed the basis of evaluation for this particular project.
Several wall retrofit scenarios were evaluated through multiple stages to identify the best recommendation. An industry expert review vetted a list of wall retrofit scenarios, and evaluated them against pre-determined critical parameters using hygrothermal modeling and industry data.
Three top-performing scenarios identified through this evaluation were constructed as mockup walls and tested in the ORNL laboratory for thermal performance and air leakage. The laboratory test evaluations were then used to identify two top-performing scenarios, which were installed on the two-story Flexible Research Platform at ORNL.
Field data collection for the two retrofit scenarios is ongoing, continuing to span over three seasons. The field performance evaluation will help identify the best-practice retrofit recommendation.
Industry expert review
In August 2014, a team of building science experts, contractors, and envelope consultants conducted an expert review. They vetted a list of seven retrofit scenarios designed for the baseline wall assembly of ORNL's two-story research platform (Figure 1). The objectives of the expert review were to:

get input on proposed retrofit scenarios;

identify need for evaluating additional scenarios;

identify critical parameters against which the scenarios can be evaluated; and

determine weighted percentages for the identified critical parameters.
The experts recommended adding two additional scenarios, resulting in a final list of nine retrofit possibilities (Figure 2).
Another recommendation was to categorize the nine retrofit scenarios into three major groups:
1. Retain the existing insulation and drywall within the assembly; install retrofit over existing assembly.
2. Retain the existing studs, remove existing insulation and drywall; install retrofit within existing studs.
3. Remove existing insulation, studs, and drywall; install retrofit over concrete masonry unit (CMU) wall.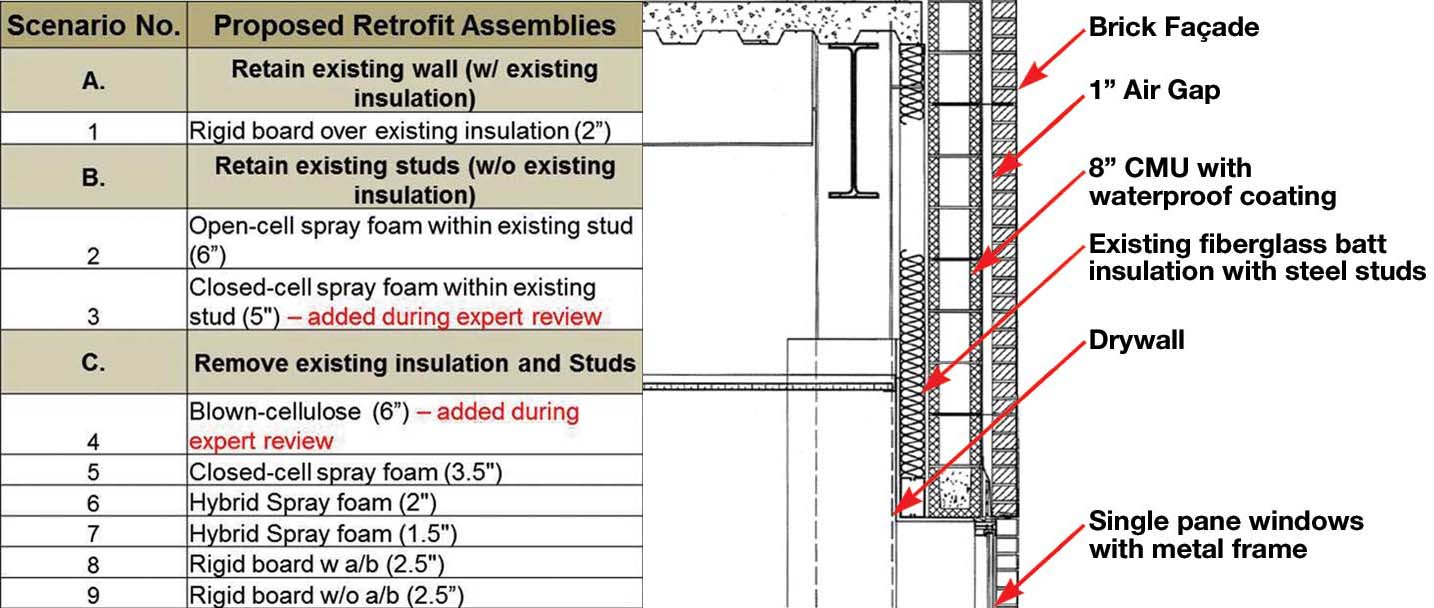 Six critical evaluation parameters were identified, along with the weighted percent for each parameter:

cost-effectiveness—35 percent;

moisture management/durability—
20 percent;

thermal performance—18 percent;

air leakage—12 percent;

disruptiveness/constructability—nine percent; and

indoor air quality (IAQ)—six percent.