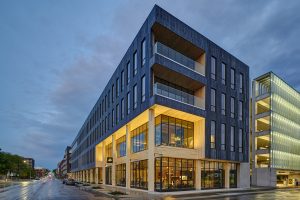 One of the first dowel-laminated timber (DLT), mixed-use, office buildings in North America, 111 East Grand, has been completed in Des Moines, Iowa.
Anchoring an 81 x 20-m (265 x 65-ft) site, the building contains four levels for a total of 6039 m2 (65,000 sf). Retail and restaurant spaces activate the street level, with three floors of office space above.
The design team, including Neumann Monson Architects and Raker Rhodes Engineering, closely collaborated with mass timber engineers and suppliers from British Columbia, Canada, and Ryan Companies as the construction manager and project contractors.
Spruce glue-laminated (glulam) beams and columns frame the 12-m (40-ft) x 2-m (6-ft) and 102–mm (4-in.) DLT panels that serve as the floors and ceilings. Since everything was prefabricated offsite, the system facilitated quick building time and a smaller site crew, minimizing the disturbance to the neighborhood during construction. Beams and panels were numbered and shipped in order by semi-truck.
The wood construction's aesthetics enabled the structure to remain exposed as an interior finish. The operable windows within each structural bay allow natural ventilation while balconies on the east and west take advantage of downtown views. Additionally, stained wood on exterior soffits and columns complement the exposed wood interior. Black, interlocking metal panel rainscreens clad the east, north, and west elevations.