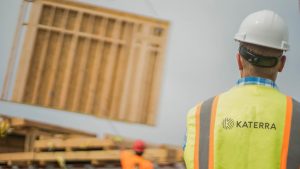 Offsite construction company Katerra has acquired UEB Builders, a general contractor specializing in commercial and residential projects, and Fortune-Johnson (F-J) General Contractors, a construction company specializing in multifamily residential projects.
UEB and F-J seek to leverage Katerra's technologies and supply chain to deliver increased value to their clients, and both firms will become known as Katerra.
"We are staying true to the vision we have held from the very start," said Michael Hurst, principal of UEB Builders. "Katerra reflects what we both believe in—a shared desire to find a better way to build for our partners and their communities."
Through these partnerships, Katerra aims to gain further construction expertise that will allow the company to expand its geographical footprint across the United States.
"Both companies share Katerra's commitment to delivering increased value to customers by embracing technology and innovative methods," said Michael Marks, CEO of Katerra. "The expertise and fresh thinking brought by both UEB and Fortune-Johnson will play a key role in realizing our vision to transform the building industry in the United States."