FAILURES
Russell M. Sanders, AIA
To meet performance demands for energy conservation, noise resistance, heat gain, and indoor comfort, designers often specify insulating glazing units (IGUs). Annealed, heat strengthened, and tempered glass are produced by suppliers and shipped to fabricators for assembly, to meet specified design criteria.
Typically, two or more glass panes are assembled with an air space, perimeter spacer desiccant, a primary seal to prevent vapor transmission, and a secondary seal to provide structural integrity. To increase strength, multi-layer laminated glass may replace monolithic sheets. Coating the surfaces adjacent to the interior air space and incorporating argon gas can improve thermal performance.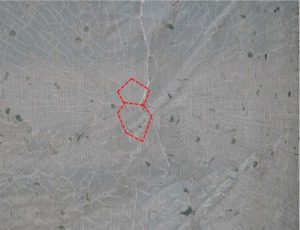 With so many components, IGUs are susceptible to defects originating throughout the design, installation, manufacturing, and fabrication process. Often, problems related to manufacturing and fabrication are not noticeable until after the unit has been installed, with some defects not apparent until well after the windows are in service.
Nickel sulfide (NiS) inclusion results from a naturally occurring impurity in the manufacture of float glass. During production, nickel contamination causes particles of metal to include the glass. In the manufacture of tempered glass, which is heated and cooled rapidly to increase strength, NiS becomes suspended in an equilibrium state between tension and compression. Spontaneous breakage can occur within the first seven to 10 years of service, as a sudden increase in temperature alters the compound's crystalline structure. Although rare, NiS failure can be identified by a distinctive breakage pattern resembling, at its center, a butterfly/figure-8/back-to-back D. Heat-soaking glass after fabrication may reduce the risk of failure by destroying some flawed panes, but it does not eliminate it.
Polyisobutylene (PIB) drips, perhaps lesser known than NiS inclusion, are associated not with manufacturing, but with fabrication. Adhering spacer to glass, PIB forms the primary seal at the IGU perimeter. Exposure to ultraviolet (UV) radiation and heat could change the material's physical properties, causing it to destabilize and form dark streaks in the vision area. As PIB degrades, the seal weakens, leading to air and water infiltration and necessitating window replacement. Unlike NiS breakage, which happens suddenly, PIB drips occur slowly over time. What both have in common is that they may not be apparent until long after installation.
Low-emissivity (low-e) coating failure appears as fogging or discolored spots at the perimeter of the IGU, which can migrate further into the vision area. Coating application issues and seal failure at the window perimeter lead to corrosion of silver particles in the coating. When applied continuously to the edge of the glass, low-e coatings may become exposed to corrosive humidity and acids if the outer seal fails. Removing the coating back from the edge of the glass to the primary seal during fabrication can prevent moisture contact with the metallic coating and protect against failure.
The opinions expressed in Failures are based on the authors' experiences and do not necessarily reflect those of The Construction Specifier or CSI.
Russell M. Sanders, AIA, is president of Hoffmann Architects, Inc., with offices in Connecticut, New York, and Virginia. With expertise in the detailing, diagnosis, and repair of building enclosures, he provides consultation and design services for new and existing assemblies. He can be reached at r.sanders@hoffarch.com.