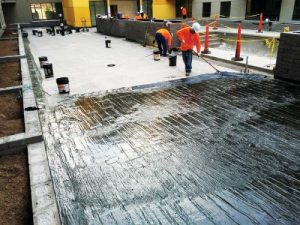 After centuries of use, fluid-applied waterproofing continues to evolve as the primary method of structural waterproofing. According to Grand View Research, fluid-applied waterproofing is predicted to be a $37-38 billion market by 2025. Historically, humans have used variations of liquid membranes to waterproof their structures since hunters and gatherers used large leaves and tree sap to protect their excess grain from moisture. In the Neolithic era, boats were sealed with bitumen emulsion from peat bogs to prevent water from deteriorating the wood. Ancient Egyptians perfected bitumen emulsion to seal and protect walls from the Nile River. With all the technological advancements over the years, it is remarkable these base chemistries are still used.
Fluid-applied waterproofing materials offer certain advantages over self-adhered sheet membranes, primarily the ease of installation, simplified detailing, and cost efficiency. Many challenges associated with sheet membrane waterproofing systems, such as 'fish mouths,' uneven seams, difficult end lapping, and complexity of installing a straight flat sheet on a polygonal structure, are eliminated in a fluid-applied system. An article in our newest sponsored e-book discusses the evolution of fluid-applied waterproofing.
This article appears along with a couple of others in How Best to Waterproof Concrete, a free, downloadable resource. To get your copy in either pdf or digital edition, visit www.constructionspecifier.com/ebook/kryton-how-best-to-waterproof-concrete-e-book.