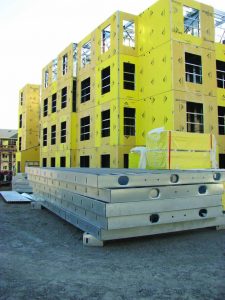 The Construction Specifier's series of sponsored e-books continues with a look at different aspects of using steel in construction. An article in our newest sponsored e-book examines steel as a component of Leadership in Energy and Environmental Design (LEED) v4 projects.
Steel-intensive building designs can be a significant contributor to earning points for a variety of LEED v4 credits. Recent updates to LEED increase the focus on materials and resource transparency. Building professionals must understand how material decisions can affect the project review and certification process. Steel-intensive building designs may provide builders with an immediate advantage because of the North American steel industry's transparent supply chain and wealth of available life cycle inventory data for all steel products.
Steel has always been positioned for credits in categories such as recycled content, but LEED v4 offers more opportunities for the material to help earn credits across a range of categories, including:
Materials and Resources (MR),
Building Product Disclosures and Optimization–Sourcing of Raw Materials, and
Building Life Cycle Impact Reduction and Design for Flexibility.
"Using Steel in LEED v4 Projects" appears, along with a trio of other articles from the pages of The Construction Specifier, in "Exploring Steel Structures," a free, downloadable resource. To get your copy in either pdf or digital edition, visit https://www.constructionspecifier.com/ebook/new-millennium-exploring-steel-structures-e-book/