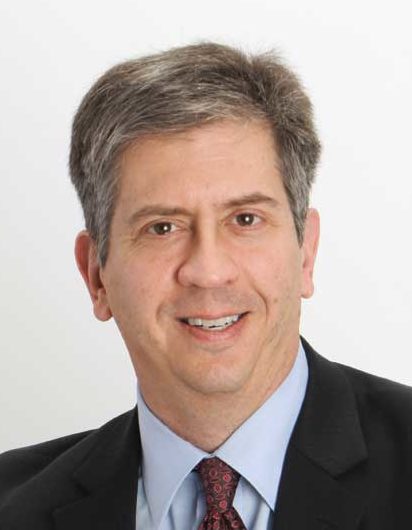 FAILURES
David H. Nicastro, PE, F.ASTM
Suspended scaffolding is used for cleaning windows and performing exterior maintenance on multi-story buildings. This equipment tends to be rented when needed, but some taller buildings have built-in, permanent components for such access, such as:
building maintenance unit (BMU)—a powered platform that descends from the roof;
davits—arms, bases, and related structural assemblies for suspending a BMU or a swing-stage (rental platform with hoisting motors); and
roof anchors—personal fall-arrest system tie-off points for independent lifelines.
These types of permanent components are governed by the Occupational Safety and Health Administration (OSHA) under the federal regulations published in 29 CFR 1910.66, Powered Platforms for Building Maintenance. (Some states, such as California and Washington, have their own regulations that control) The regulations hold the building owner responsible for inspection, maintenance, and testing of the permanent components; those services are typically performed for the owner by vendors.
Testing the equipment serves a vital purpose, as demonstrated by the numerous problems that have been detected (and disasters averted) from defects in design, fabrication, and installation, as well as deterioration in service. However, in some cases, latent failures are caused by improper testing.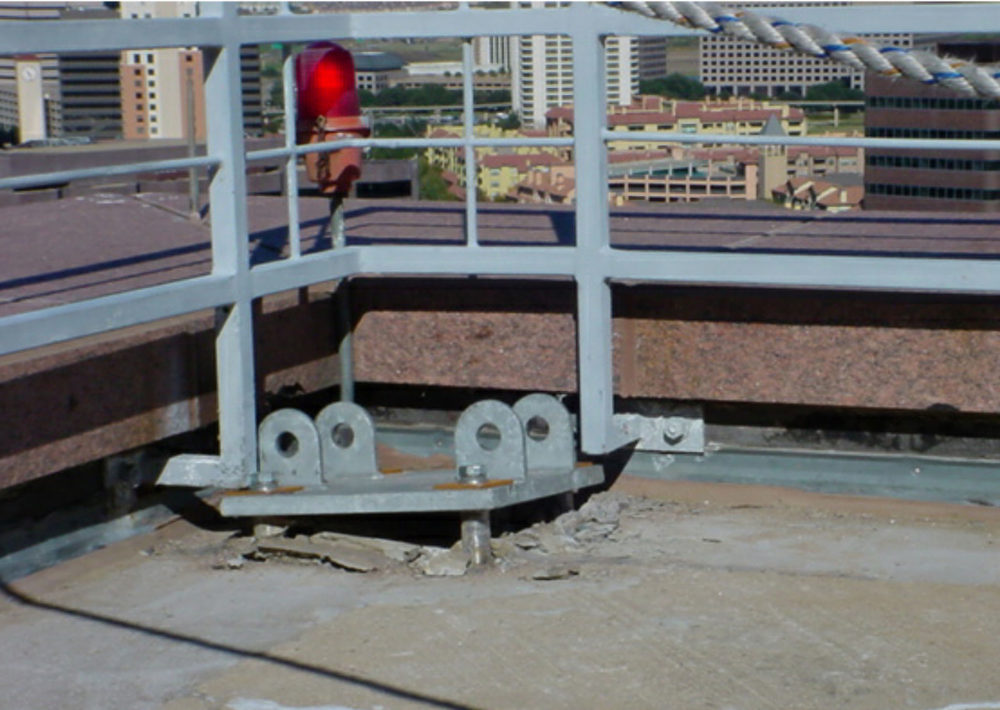 This photo shows a davit base that pulled out of the concrete topping slab on a high-rise roof the first time it was used after it had just been load-tested. Fortunately, no one was injured, but shocking numbers of buildings have suffered similar failures due to over-testing.
Since they are critical life-saving devices, suspended scaffolding components are designed with a factor of safety of at least four. Therefore, the actual loads experienced in service should be less than 25 percent of the ultimate strength of the materials and connections. Some vendors have erroneously tested the components to the ultimate capacity (where failure would logically be expected) rather than a more reasonable 1.5 or 2 times the service loads. Even at these lower loads, damage can accumulate from excessive frequency of testing; load tests are only recommended before initial service, after modification of the system, and at intervals of 10 years.
The federal regulations do not specify the magnitude of load tests, but OSHA published a "Standard Interpretation" shortly after the regulations were first promulgated:
Normally a four to one maximum safety factor, based on yield strength, for example, is a design strength criterion. Loading to this extent is not required by the 1910.66 standard…Such loading could be characterized as destructive testing.
CAL/OSHA prohibits over-testing in the California Code of Regulations, Section 3296(b)(4):
(A) Load suspension devices shall not be tested to more than 2 times the rated working load which the device is designed to lift and/or support.
(B) Roof tie-back anchors shall be tested to no more than 50 percent of their rated capacity. For example, an anchor with a rated capacity of 5000 [i.e. 22.2 kN] pounds shall not be tested in excess of 2500 pounds [i.e. 11.1 kN].
Similarly, applicable industry standards—American Society of Mechanical Engineers (ASME) A120.1-2014, Safety Requirements for Powered Platforms and Traveling Ladders and Gantries for Building Maintenance, and International Window Cleaning Association (IWCA) I-14.15, Window Cleaning Safety Standard—limit load testing to half the ultimate strength of components.
It is ironic, and potentially tragic, when a vendor induces failure of life safety components by testing them too severely.
The opinions expressed in Failures are based on the author's experiences and do not necessarily reflect those of The Construction Specifier or CSI.
David H. Nicastro, PE, F.ASTM, started the Failures column for The Construction Specifier in January 1994. He is the founder of Building Diagnostics Inc. and Engineering Diagnostics, specializing in the investigation of problems with existing buildings, designing remedies for those problems, and resolving disputes arising from them. He is a licensed professional engineer, and leads the research being performed at Building Diagnostics' testing center, The Durability Lab, at The University of Texas at Austin. He can be reached by e-mail at dnicastro@buildingdx.com.