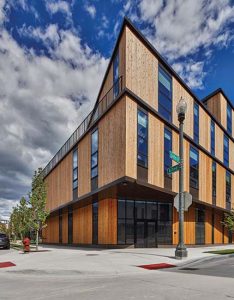 Deviating from common building materials, Lorcan O'Herlihy Architects (LOHA) cladded JOHN R 2660, a 35-unit housing and ground floor retail building, in western red cedar.
Located at Brush Park in Detroit, Michigan, JOHN R 2660 is part of a quartet of anchor buildings cladded in materials commonly found throughout the city—brick, wood, and metal. The height steps up to five stories at the southern end, facing downtown, and steps down to three stories to align with the historic Victorian across the street.
The building is wrapped in a rhythm of thin vertical boards of western red cedar and floor-to-ceiling windows. The wooden pieces bring texture, and the glass brings openness for the ground-floor retail. Horizontals and verticals on the façade are expressed as a series of horizontal bands, reinforced by a metal coping detail at each floor level.
As the building steps back, this gesture is further emphasized through the exaggerated horizontality of each of the floor levels. This is then juxtaposed by orienting the wood vertically, which creates a duality between the verticals and horizontals. The use of dark mullions additionally offer contrast against the wood, while metal panels above and below the windows further reinforce the vertical break of the window is continuous.
Moving up into the units, there is a mix of studios, one-bedroom units, and two-bedroom units ranging from 41.8 m2 to 92.9 m2 (450 to 1000 sf). An important feature that brings openness and light to the interiors, is floor-to-ceiling glazing, and 2.9-m (9.5-ft) ceiling.
Another strategy used to maximize the space was to push the bathrooms and kitchens against the corridor wall to open up the living rooms, bedrooms, and main living spaces to solar exposure along the outside wall. On the third floor is a shared roof deck for residents, oriented across from the historic mansion offering views of the surrounding area.
The main residential lobby is at the southern end of the building on John R Street, which is situated alongside the retail units that occupy most of the ground floor. On the building exterior along John R Street and Alfred Street, the building carves in creating an overhang of the second level which cantilevers out over the street. By expanding the bandwidth of the sidewalk, a lively pedestrian thoroughfare is created, providing shade and shelter from the elements.