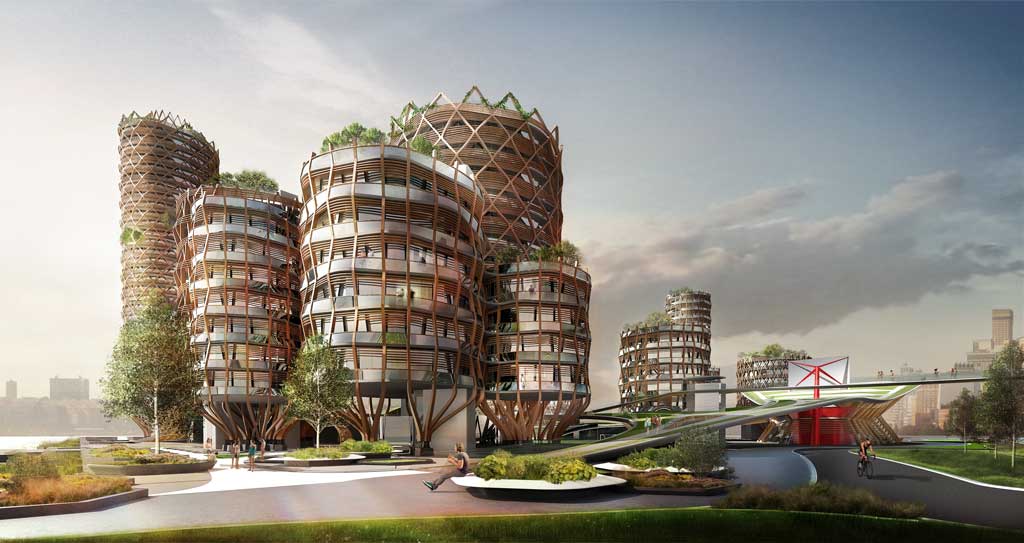 Multidisciplinary firm Design Form Architecture (DFA) has released a proposal for the redevelopment of Pier 40 at New York City's Hudson River Park. The plans, which take into account the anticipated sea-level rise in the area, consist of a mixed-use complex for housing, commerce, and recreation.
"We see so many projects going up in New York that are quick, chart-driven responses to serious problems," says Laith Sayigh, DFA principal. "These short-term resolutions will not safeguard the city from rapid changes in the environment or protect future generations of people. We selected Pier 40 as a site because of its unique conditions, commercial viability, and proximity to Lower Manhattan. DFA has designed a viable, future-oriented solution for the challenges of the site."
With a 6-ha (15-acre) footprint, Pier 40 is the largest structure of its kind on the Hudson River, generating approximately 30 percent of the Hudson River Park Trust's annual operation budget. At present, the site contains a parking garage, office space, and an athletic complex. A valuable and viable real estate asset, DFA proposes Pier 40 be reimagined as a response to its structural and natural strengths and weaknesses. The firm's site-specific plan includes a 450-unit residential complex, which prioritizes affordable housing.
To read more, click here.