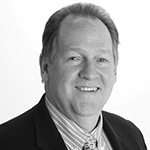 INSIDE CSI
J.W. Mollohan, CSI, CCPR
The CSI Board of Directors' mandate to the national Membership Committee is succinct and straightforward: increase the recruitment of new members and the retention rate for existing ones. The directive to the Membership Committees at CSI's 10 regions and 130 chapters is much the same. These are easily understandable goals, but they are not actionable items. When given responsibility for realizing these desirable outcomes, which levers do we pull?
The Institute Membership Committee discovered early that 'membership' is the intersection of every initiative at CSI. Successful recruitment and retention of active and engaged members empowers every activity, every program. Currently, CSI has approximately 11,500 members. We have been adding an additional 2000 new members each of the past several years, but retention is at about 79 percent, so current membership levels are not sustainable.
We do not have to accept the continuing gradual decline. We must dedicate ourselves to communicating our genuine enthusiasm for our association to others in this industry. We must seize opportunities to reinforce the value of CSI membership by enhancing the CSI experience for individuals.
CSI is blessed with an outstanding professional management team and governed by a Board of Directors composed of seasoned and successful veterans from our chapters and regions. They are debating and implementing multiple ideas and programs in an attempt to positively influence the trajectory of our numbers. Innovative initiatives such as the ongoing Buy One/Give One and the 50/50 incentives have boosted our recruitment. The redesign of our CSI brand will better project the association's vitality.
Ultimately, however, it is only you, an engaged and enthusiastic member, who can preserve and grow CSI. No institute initiative, however well-designed or intended, ever persuaded a co-worker to come out to a dinner meeting or a product show. You must give that prospective member a reason to take time from his or her family and job. Your successful chapter will:
ensure professional development programs pertinent to current and prospective members;
actively promote programs and events to members and the community;
build personal relationships within the chapter with family-oriented social and charitable events;
engage the many new recruits attracted by these activities, in concert with their personal skills and interests, to advance the CSI experience of your entire membership; and
take responsibility for CSI's growth by actively sharing, person-to-person, the excitement for the many benefits of membership.
To facilitate these local actions, our committee has branded "Giving L.I.F.E. to CSI"—an open-ended, member-feedback-driven PowerPoint designed to illustrate the benefits of active participation in a successful professional association. Look for this living document
to be rolled out at the upcoming regional conferences and disseminated to chapters.
High on our priority list is an outreach to the approximately 1500 CSI members (nearly 12.5 percent) who do not belong to a chapter and do not share in the positive experience of working with peers in advancement of their careers and industry. We estimate less than half of these members are unaffiliated because of the inaccessibility of a local chapter. More likely, they simply unaware of the tremendous value of associating with local like-minded professionals.
Most importantly, we are creating a two-way conduit of communication between the Committee, and the Membership Chairs of our regions and chapters. This effort will incorporate regular e-mails and a monthly regional membership conference call. Our goal is to quickly and broadly share successful ideas, programs, and events between all chapters.
The leadership team understands our members' knowledge, enthusiasm, and willingness to share are the CSI's greatest assets. They also know that however eager and willing they are to boost our numbers, the real power to grow lies with the individual member.
J.W. Mollohan, CSI, CCPR, is a veteran of 30 years in the design and construction industry. Time invested in manufacturing, distribution, sales, and management have given him a broad-based expertise, while continuing education has kept him at the forefront of building and materials science. Mollohan is Dryvit Systems's strategic markets manager, with primary responsibility for the federal and military segment, national constructor firms, and thought leadership within industry associations. A 17-year CSI member and the immediate past-president of the Kansas City Chapter, he chairs the Institute Membership Committee. Mollohan can be reached at jw.mollohan@dryvit.com.