Looking back at steel-making history
February 1, 2016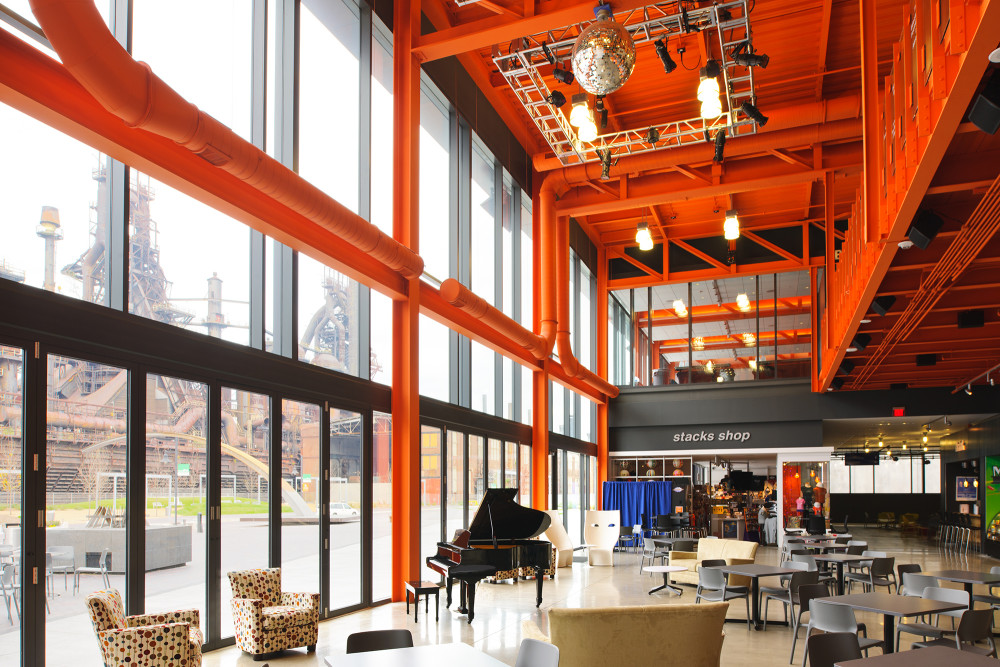 Transformation and transparency fueled the design vision behind Pennsylvania's ArtsQuest Center at SteelStacks.
Located on a 1.8-ha (4.5-acre) reclaimed brownfield, the $17.3-million arts facility features proprietary curtain wall and entrance systems, providing a unique view of the area around it.
"The north wall of the three-story building is glass, allowing visitors to view the Bethlehem Steel furnaces," says the general contractor, Alvin H. Butz Inc.
"Every exposed steel beam is painted 'International Orange,' the same color as the Golden Gate Bridge, which was built from steel produced by those furnaces," the firm continues. "The building envelope is a hybrid structural system, which also serves as load-bearing skin, allowing for the performance spaces to be acoustically isolated. Inside the structural concrete box is a skeletal steel frame that honors the site's steel-making history and completes the hybrid system."
The curtain wall's framework helps reduce the need for steel reinforcing and features 63.5-mm (2.5-in.) sightlines with a 152.4-mm (6-in.) system depth on the interior and 203-mm (8-in.) depth on the exterior. Snap-on covers allow for different finishes on interior and exterior exposed surfaces; silicone-glazed verticals were used to create a seamless appearance.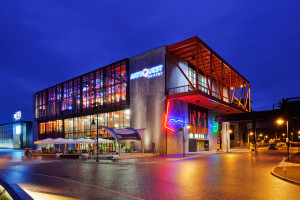 "The architecture of the ArtsQuest Center is influenced by its industrial site," said Joseph N. Biondo, principal for Spillman Farmer, which designed the facility. "It embraces our region and its culture, recognizing the material and human spirit that fueled the industry of this country. As a firm, we see this project as an expression of structure, material, and site."
The 6132-m2 (66,000-sf) ArtsQuest Center comprises spaces that will see more than 1000 concerts and eight different festivals performed annually. It also includes:
a two-screen art cinema;
600-seat Musikfest Café live music venue; and
the 372-m2 (4000-sf) Blast Furnace room, which hosts a various community and educational functions.
The center is a collaboration between ArtsQuest, a nonprofit organization that revitalizes communities through the arts, and SteelStacks, a 4-ha (10-acre) campus dedicated to arts, culture, family events, community celebrations, education, and fun.
The facility's design and construction followed Silver certification criteria of the U.S. Green Building Council's (USGBC's) Leadership in Energy and Environmental Design (LEED) guidelines for energy-efficient and environmentally sound new construction.
Source URL: https://www.constructionspecifier.com/looking-back-at-steel-making-history/
---