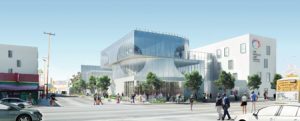 California-based builder Swinerton is working on two community-building projects in Los Angeles aimed at addressing homelessness and providing services for those in need.
The Los Angeles LGBT Center's Anita May Rosenstein Campus is an expansion of the existing headquarters. The project provides multigenerational services to the LGBTQ community through affordable housing for seniors and supportive housing for youth, in addition to providing beds for homeless youth.
The facility includes a commercial kitchen to feed homeless youth and seniors, retail space on the ground floor, and underground parking. The $60 million construction project, which is designed to achieve Leadership in Energy and Environmental Design (LEED) Gold certification, broke ground in March 2017 and is scheduled to open this year.
The Weingart Tower project is a two-tower residential high-rise that will provide affordable and permanent supportive housing for individuals without a home. Currently in the preconstruction phase, groundbreaking is planned for fall. Construction is anticipated to last approximately 20 months across two phases.
The tower was designed by architect Joseph Wong Design Associates (JWDA) and AHBE Landscape Architects.