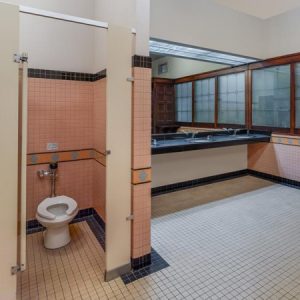 Known as the 'last of the great train stations,' the Los Angeles Union Station has stood as one of the city's architectural icons since 1939. While operating purely as a train station for many years, it has now evolved as a destination complete with art exhibitions, live music, and fine dining.
Water saving products, installed in both the facility's public and private restrooms, played a part in the station's transformation. With 50,000 to 100,000 people going through it on a daily basis, water efficiency and hygiene were paramount. The new flushometers reduce water volume by more than 30 percent with their dual- or single-flush high efficiency option. Additionally, hands-free sensor operations on the station's water closets promote hygiene in the facility.
The new faucets installed provided the station with an intelligent and touch-free product. The sensor-activated faucet provides efficient water savings and a polished chrome aesthetic finish as the train station continues its trend toward automatic restroom applications.
The flushometers provided similar benefits when the train station—listed on the National Register of Historic Places—decided to retrofit its existing royal flushometers on its urinals. With it hands-free operation, the electronic flushometer automatically operates by an infrared sensor for high and low target detection in both the station's public restrooms and its executive office area.