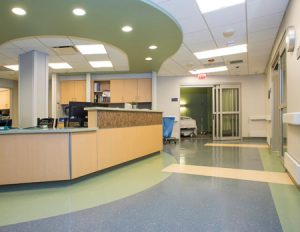 Opened in 1959, the Slidell Memorial Hospital is a 229-bed acute care hospital in the New Orleans metropolitan area, Louisiana. As part of the hospital's masterplan to keep the building up-to-date and improve its efficiency, rubber flooring was installed in the intensive care unit (ICU) more than 10 years ago.
According to Jeffrey Singley, director at the hospital, "the floor is proven it is working…and there are no issues. It is seamless."
One of the most important features Singley points to is the floor's simple cleaning regimen that eliminates the need for strippers and the application of finishes and sealants.
"The cost savings in floor finish—floor stripper alone and having to do it twice a year has probably saved our department budgets about 18 percent annually. From a productivity standpoint, you are able to increase manhours for our floor techs and have them cover more areas," Singley adds.
This cleaning regimen benefits patients, too, as Anita Becker, director of critical care services, explains. "Our patients in the ICU are very sensitive to smells and sounds. So, the fact we do not have to use heavy equipment or chemicals to clean and strip them is a wonderful addition to the system."
Additionally, flash coving extending from the floor to the wall ensures there are no corners or crevices for dirt and grime to get into.
The floor can also protect against slips and falls as a result of a cleaning regimen that eliminates the need for finish products and the floorcovering's slip-resistance feature.
"Slip resistance is important in the hospital, because, often, we are moving at a pace that requires us to move more quickly and respond promptly to our patients, without any hesitation due to a fear of falls, trips, or slip hazards," says Becker.
In addition to reducing the incidence of slips and falls, premium rubber flooring significantly reduces glare coming from its surface, again attributable to the absence of finishes.
Further, sounds footsteps and carts make are absorbed by the flooring system, thereby contributing to a quiet environment in the facility.
Staff also appreciate the benefits rubber flooring delivers, particularly at the end of a long shift.
"My caregivers are impacted by the flooring every day, every hour, every minute of every 12-hour shift they work. They walk miles and miles in the course of a single day, so having a flooring system that supports them and provides comfort makes all the difference at the end of a 12-hour day, or a 25-year career," says Becker.
Durability, too, is important, especially in the hospital's new service corridor that sees forklift traffic, linen and infectious waste carts, wheelchairs, and a considerable amount of foot traffic. It is no wonder Singley describes the corridor as "one of the toughest areas to maintain and keep presentable." Rubber flooring has ensured the space is not breaking down, easy to clean, aesthetically pleasing.