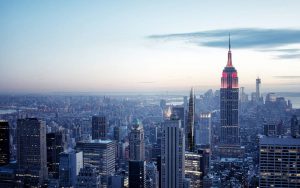 MAD Architects, led by Ma Yansong, released an alternative vision for New York City high-rises with East 34th. Unlike conventional towers typically expressing distinct, imposing outlines, East 34th articulates a deep-colored glass curtain wall façade slowly fading into a slender and fluid transparent cap that quietly dissolves into the atmosphere.
Located adjacent to the Empire State Building, the 232-m (761-ft) tall tower is planted like a seed, sprouting within the grid, and rising with a soft, undulating surface.
Defying the stacked floor plates the 11,148-m2 (119, 996-sf) East 34th tower softens the skyline and introduces a dialogue between New York's modernist landscape and nature.
The design starts as a commercial podium at street level, combining retail and public amenities. A large, multi-floor atrium with a green wall offers an escape into nature from the concrete jungle of the city. The interior is interspersed by double-height communal spaces and amenities.