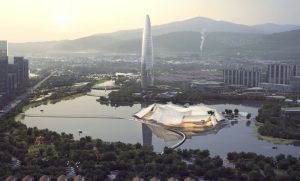 MAD Architects, led by Ma Yansong, has won an international competition to design the Yiwu Grand Theater in China's Zhejiang province.
Located on the south bank of the Dongyang River, the theater has two screens and a conference center.
Positioned with the mountains in the distance, MAD's design responds to its locale, and appears as a boat floating on the river. It is defined by a layering of glass sails reminiscent of the Chinese junks that once transported goods across the waters.
To reduce overall energy consumption, MAD has conceived the theater with a passive solar design. The semi-transparent glass curtain wall not only acts as a shading system, but also optimizes the use of natural light in the interior spaces, creating a solar greenhouse effect in the winter. In the summer, it serves as the ventilation system by enhancing airflow circulation in the building.
Construction on the Yiwu Grand Theater is expected to begin in 2020.