Mass timber catalyst for code changes
by sadia_badhon | November 14, 2018 1:05 pm
by Murray Jenkins, AIA, NCARB, LEED AP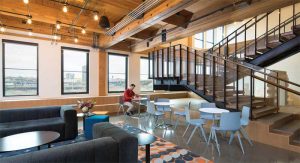 Workplaces are now tasked with inspiring creativity, recruiting talent, promoting mental well-being, and even encouraging employee productivity. It is a big ask for workplace designers, but materials like wood are helping them answer it.
Wood is being used in both structural and interior workplace design. The resurgence of mass timber is being driven by affordability, aesthetics, and sustainability. Rapidly developing materials like cross-laminated timber (CLT) and dowel-laminated timber (DLT) are providing an increasingly advanced supply to meet the demand. The extended capacity of timber is catching on quickly and regulators are working to adapt to the situation. This November, the International Code Council (ICC) will vote on new model codes for taller mass timber buildings. In Oregon, measures were approved by the state's Building Code Structures Board in August.
Traditional Type IV heavy timber code is used primarily for timber warehouses. This code requires non-combustible protection for concealed spaces within the building and limits building height to five stories. The measures approved by Oregon's Building Code Structures Board expand Type IV heavy timber construction codes to define Type IV-A, Type IV-B, and Type IV-C construction types. This expansion defines three new code paths for mass timber structures up to 18 stories tall (Type IV-A), 12 stories tall (Type IV-B), and nine stories (Type IV-C), each with their own set of requirements for fire resistance and structural protection. Designers now have a clear code path to develop taller mass timber buildings with enclosed spaces needed for building offices, as well as code provisions for leaving the wood structural elements exposed.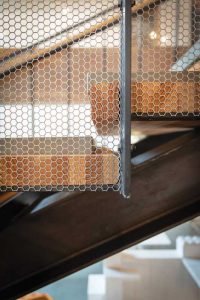 Case study: Six-story mixed use
In 2014, Ankrom Moisan Architects (AMA) was in search of a space for their headquarters in Portland, Oregon. Hoping to leave behind the Class A office of its past, firm leadership agreed the ideal location would be a renovated, timber-framed warehouse. With more than 200 Portland-based employees, the firm needed approximately 3716 m2 (40,000 sf) of space. However, after considering more than 25 locations, they concluded feasible warehouses did not exist within the central city. As a solution, the firm partnered with developer Gerding Edlen on the new construction of 38 Davis on a vacant, urban site in Portland's Old Town Chinatown District. AMA had worked with Gerding Edlen on several projects throughout the western United States, and the two shared the goal of a positive impact on the triple bottom line—people, planet, and prosperity. Integrating mass timber and other wood elements into the building's design was an integral component of a new office encompassing these values.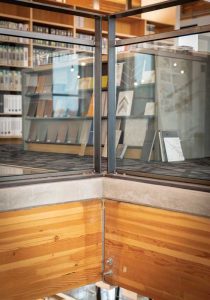 38 Davis is a six-story, 11,519-m2 (124,000-sf), mixed-use building with a five-story timber-framed structure over a concrete podium. Designed and built prior to the new Type IV-A, Type IV-B, and Type IV-C code provisions for mass timber construction, it was constructed as a Type III structure over a Type I podium. Type III provides a code path for a timber structure up to five stories tall. By placing the building on a Type I, fire-resistant podium, designers could achieve a Type III structure that is six stories tall, large enough to house the firm's headquarters, mixed-use space, and separate residential floors. The podium now houses retail as well as classroom spaces for the University of Oregon's Portland campus. The upper floors, within the mass timber structure, contain three levels of offices and two levels of residential space. Encompassing 5388 m2 (58,000 sf) and three floors of the building, AMA is the largest tenant.
Building type and design concept
AMA and Gerding Edlen faced a unique set of building code challenges when designing 38 Davis. At the time of design and construction, there was no clear building code path for taller mass timber buildings with exposed structural elements.
At the time, Type IV construction with traditional heavy timber had limitations on height, exposed structural elements, and concealed spaces. With a need to conceal piping, utilities, and duct work systems in certain areas, designers had to choose between Type III and Type V-A building code. If 38 Davis was constructed as a Type V-A structure, all exposed structural elements had to be fire-rated for one hour. Type III-A also requires the wood structural elements of the building to be covered or oversized for fire protection, which would compromise the aesthetic.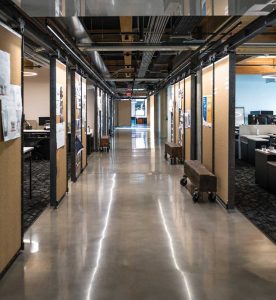 Construction of 38 Davis as a Type III-B building allowed its timber structure to remain exposed, without oversizing, to provide a return to the character of the space as an office and to become an integral part of the interior design. One can see where the beams come together, the joints, and the brace frames—it is an energetic display of raw materials and craftsmanship mirroring the work architects do.
"As architects and designers, being able to work around the things that we use to build reinforces why we are here and what we are doing. Concrete, steel, glass, and wood are brought together in expressive, warm, and honest detail. It is a reflection of our culture," said Karen Bowery, executive vice-president of AMA.
The post-and-beam system of 38 Davis also permitted large interior spaces, high ceilings, and more window openings. Other than concrete shear walls, the only interruptions of the space are intentional ones, such as private booths and conference rooms for meetings and phone calls. Complementing the open layout, the wood lends itself to the space acoustically. Instead of a flat plain across the ceiling, there are recesses formed by the timber beams that absorb sound between work areas. So even though the layout of the office is very open, sounds do not travel easily. If staff in one area need to discuss or collaborate on a project, they can do so without affecting other work areas.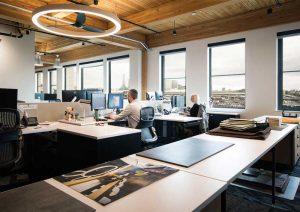 A survey[6] by the U.S. Environmental Protection Agency (EPA) found the average North American spends 90 percent of their time indoors, much of that in an office environment. Architects and designers are uniquely positioned to create functional and dynamic spaces promoting occupant well-being, not only for their clients, but also for themselves. The use of natural materials in the workplace is helping do just that. A report[7] conducted by Pollinate, a Sydney-based research agency, found employees exposed to natural wood in their workplaces feel more connected to nature, have more positive associations with their workplace, and are less likely to take leave. Wood is correlated with higher levels of concentration and improved mood and personal productivity.
At 38 Davis, cooler concrete, glass, and steel elements are consciously balanced with warm wood interior accents throughout the building. Laminated birch casework defines the communal forum and library as gathering spaces. Sliding cork dividers and reclaimed train trusses fashioned into benches line the L-shaped hallways, balancing the industrial effect of cement floors and walls. Mass timber beams, and tongue and groove decking frame the ceiling and corner spaces of the office, giving employees at their desks continued exposure to the wood elements. It is a modern, utilitarian, yet historic and comfortable design that uses natural raw materials to inspire.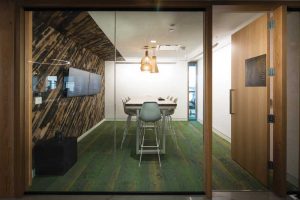 The firm conducted a post-occupancy survey to measure the change in employee perceptions since the relocation. Satisfaction with personal workspace increased from 58 to 77 percent. Anecdotally, the higher ceiling height was one of the most positively received upon elements of the design. The number of employees marking "satisfied" or "very satisfied" with the firm overall rose by an average of 26 percent.
Sustainability
Choosing mass timber as a major structural element is allowing builders to drastically reduce their impact on the environment. With its innate renewable qualities, wood compares favorably to building materials like steel and concrete. In a recent article[9], an editor of the National Association for Industrial and Office Parks (NAIOP) explains, "A ton of concrete used in high-rise construction spews one ton of carbon into the air during production; one ton of wood used in 
a wood mass building has the potential to remove from the air and store up to two tons of carbon for the life of the project."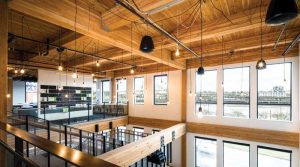 Sustainability has become an integral part of project design and development. Choosing sustainable materials and systems with a positive impact on people and the planet is a rule, rather than the exception, for AMA. This is with good reason, given the building sector is responsible for 44.6 percent of carbon dioxide (CO2) emissions in the United States, according to a U.S. Energy Information Administration report[11].
38 Davis became one of the first buildings to be certified by the Leadership in Energy and Environmental Design (LEED) v4 rating program. In addition to a green roof, it features gray water reclamation using shower water runoff from the upstairs apartments to flush toilets in the office spaces below. Within the AMA space, large fans operate in tandem with operable windows to circulate air, and a custom software program suggests appropriate times for opening windows rather than solely relying on the HVAC system. In the post-occupancy survey, employee perception of the firm's commitment to sustainability as "very important" rose by 52 percent.
Sourcing materials
Working with the local community was a critical aspect of the design and construction process of 38 Davis. It was the first ground-up new development in Portland's Old Town Chinatown District in more than a decade. CLT was evaluated as an option, but at the time, was only available through suppliers in Australia and Canada. Therefore, Douglas fir timbers from within 805 km (500 mi) of the project were chosen, saving the development construction time and making a positive impact on local, rural businesses.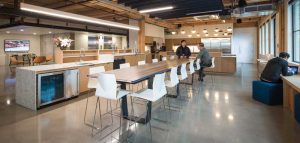 Keeping with the tenor of the Old Town Chinatown District, the AMA workplace—along with all of 38 Davis—capitalizes on a historic method of a traditional 3×4 tongue-in-groove system with large beams and exposed columns. The use of the concrete flooring over the wood decking as a lateral resistance system provided the "warehouse" feel the firm was after.
Conclusion
As of now, building codes still limit what architects and developers can do with mass timber, but products like CLT and DLT are serving as catalysts for change. These products are not only less expensive than concrete and steel, but also can be locally sourced and prefabricated, thereby cutting down overall construction times and making jobsites safer.
Together, the timber products industry, architects, designers, and builders are putting the pressure on national regulators to create opportunities for mass timber building advancement in a safe, regulated way.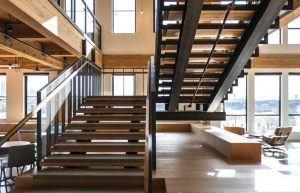 AMA senior architect Eric Bressman, who served on the 38 Davis project team, was also a member of the 2019 Oregon Structural Specialty Code (OSSC) Review Committee that led the state to become the first in the country to approve building code requirements for tall mass timber buildings.
The regulation changes have designers excited about the future of timber construction. The new code requirements in Oregon allow for entirely new kinds of Type IV structures that can be designed as more than just an open warehouse space. The new code path defines how a mass timber building can function as a residential, workplace, or mixed-use development. Projects like 38 Davis initiated the demand for easier, clearer building code paths for mixed-use mass timber projects to follow.
"In the case of 38 Davis, the limitation of five stories of mass timber above the concrete podium goes away under the new code. The entire building could have been done in mass timber, with everything exposed, up to eight stories," says Bressman.
From a building's core structure to its interior design concept, every phase of a project can take advantage of the wood trend. Designers can generate biophilic and stress-reducing emotions by including reclaimed wood finishes in workplace designs. Developers can locally source mass timber as a renewable alternative to steel or concrete during construction, and prefabricate offsite to contain cost. Wood is helping designers and architects meet the growing demand for healthier, greener, more user-friendly commercial spaces.  
Murray Jenkins, AIA, NCARB, LEED AP, is executive vice-president for Ankrom Moisan Architects. With specialization in interdisciplinary design processes and urban environments, his work has supported the development of vibrant communities throughout the western United States.
Endnotes:
[Image]: https://www.constructionspecifier.com/wp-content/uploads/2018/11/AMA-PDX07-new1.jpg
[Image]: https://www.constructionspecifier.com/wp-content/uploads/2018/11/38-Davis-Construction-Details-CBPhoto-1.jpg
[Image]: https://www.constructionspecifier.com/wp-content/uploads/2018/11/38-Davis-Construction-Details-CBPhoto-3.jpg
[Image]: https://www.constructionspecifier.com/wp-content/uploads/2018/11/38-Davis-Details_new8.jpg
[Image]: https://www.constructionspecifier.com/wp-content/uploads/2018/11/AMA-PDX04-new.jpg
survey: http://www.ncbi.nlm.nih.gov/pubmed/11477521
report: http://makeitwood.org/documents/doc-1624-pollinate-health-report---february-2018.pdf.
[Image]: https://www.constructionspecifier.com/wp-content/uploads/2018/11/AMA-PDX-13.jpg
article: http://blog.naiop.org/2018/06/mass-timber-high-rise-construction-becomes-a-global-trend
[Image]: https://www.constructionspecifier.com/wp-content/uploads/2018/11/AMA-PDX-5.jpg
report: http://architecture2030.org/buildings_problem_why
[Image]: https://www.constructionspecifier.com/wp-content/uploads/2018/11/AMA-PDX01-new.jpg
[Image]: https://www.constructionspecifier.com/wp-content/uploads/2018/11/38-Davis-Details_CBPhoto-22.jpg
Source URL: https://www.constructionspecifier.com/mass-timber-catalyst-for-code-changes/
---