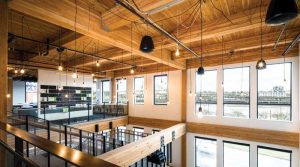 Sustainability has become an integral part of project design and development. Choosing sustainable materials and systems with a positive impact on people and the planet is a rule, rather than the exception, for AMA. This is with good reason, given the building sector is responsible for 44.6 percent of carbon dioxide (CO2) emissions in the United States, according to a U.S. Energy Information Administration report.
38 Davis became one of the first buildings to be certified by the Leadership in Energy and Environmental Design (LEED) v4 rating program. In addition to a green roof, it features gray water reclamation using shower water runoff from the upstairs apartments to flush toilets in the office spaces below. Within the AMA space, large fans operate in tandem with operable windows to circulate air, and a custom software program suggests appropriate times for opening windows rather than solely relying on the HVAC system. In the post-occupancy survey, employee perception of the firm's commitment to sustainability as "very important" rose by 52 percent.
Sourcing materials
Working with the local community was a critical aspect of the design and construction process of 38 Davis. It was the first ground-up new development in Portland's Old Town Chinatown District in more than a decade. CLT was evaluated as an option, but at the time, was only available through suppliers in Australia and Canada. Therefore, Douglas fir timbers from within 805 km (500 mi) of the project were chosen, saving the development construction time and making a positive impact on local, rural businesses.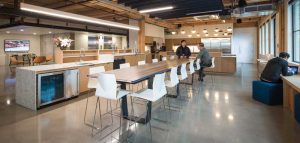 Keeping with the tenor of the Old Town Chinatown District, the AMA workplace—along with all of 38 Davis—capitalizes on a historic method of a traditional 3×4 tongue-in-groove system with large beams and exposed columns. The use of the concrete flooring over the wood decking as a lateral resistance system provided the "warehouse" feel the firm was after.
Conclusion
As of now, building codes still limit what architects and developers can do with mass timber, but products like CLT and DLT are serving as catalysts for change. These products are not only less expensive than concrete and steel, but also can be locally sourced and prefabricated, thereby cutting down overall construction times and making jobsites safer.
Together, the timber products industry, architects, designers, and builders are putting the pressure on national regulators to create opportunities for mass timber building advancement in a safe, regulated way.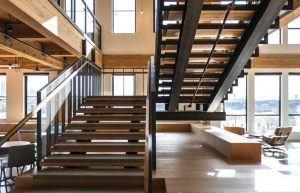 AMA senior architect Eric Bressman, who served on the 38 Davis project team, was also a member of the 2019 Oregon Structural Specialty Code (OSSC) Review Committee that led the state to become the first in the country to approve building code requirements for tall mass timber buildings.
The regulation changes have designers excited about the future of timber construction. The new code requirements in Oregon allow for entirely new kinds of Type IV structures that can be designed as more than just an open warehouse space. The new code path defines how a mass timber building can function as a residential, workplace, or mixed-use development. Projects like 38 Davis initiated the demand for easier, clearer building code paths for mixed-use mass timber projects to follow.
"In the case of 38 Davis, the limitation of five stories of mass timber above the concrete podium goes away under the new code. The entire building could have been done in mass timber, with everything exposed, up to eight stories," says Bressman.
From a building's core structure to its interior design concept, every phase of a project can take advantage of the wood trend. Designers can generate biophilic and stress-reducing emotions by including reclaimed wood finishes in workplace designs. Developers can locally source mass timber as a renewable alternative to steel or concrete during construction, and prefabricate offsite to contain cost. Wood is helping designers and architects meet the growing demand for healthier, greener, more user-friendly commercial spaces.  
Murray Jenkins, AIA, NCARB, LEED AP, is executive vice-president for Ankrom Moisan Architects. With specialization in interdisciplinary design processes and urban environments, his work has supported the development of vibrant communities throughout the western United States.