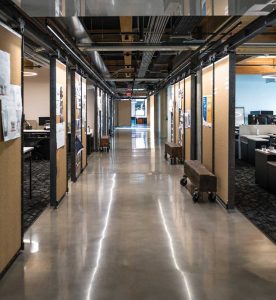 Construction of 38 Davis as a Type III-B building allowed its timber structure to remain exposed, without oversizing, to provide a return to the character of the space as an office and to become an integral part of the interior design. One can see where the beams come together, the joints, and the brace frames—it is an energetic display of raw materials and craftsmanship mirroring the work architects do.
"As architects and designers, being able to work around the things that we use to build reinforces why we are here and what we are doing. Concrete, steel, glass, and wood are brought together in expressive, warm, and honest detail. It is a reflection of our culture," said Karen Bowery, executive vice-president of AMA.
The post-and-beam system of 38 Davis also permitted large interior spaces, high ceilings, and more window openings. Other than concrete shear walls, the only interruptions of the space are intentional ones, such as private booths and conference rooms for meetings and phone calls. Complementing the open layout, the wood lends itself to the space acoustically. Instead of a flat plain across the ceiling, there are recesses formed by the timber beams that absorb sound between work areas. So even though the layout of the office is very open, sounds do not travel easily. If staff in one area need to discuss or collaborate on a project, they can do so without affecting other work areas.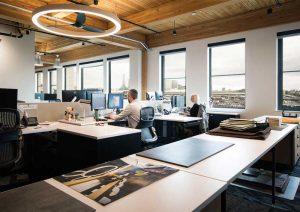 A survey by the U.S. Environmental Protection Agency (EPA) found the average North American spends 90 percent of their time indoors, much of that in an office environment. Architects and designers are uniquely positioned to create functional and dynamic spaces promoting occupant well-being, not only for their clients, but also for themselves. The use of natural materials in the workplace is helping do just that. A report conducted by Pollinate, a Sydney-based research agency, found employees exposed to natural wood in their workplaces feel more connected to nature, have more positive associations with their workplace, and are less likely to take leave. Wood is correlated with higher levels of concentration and improved mood and personal productivity.
At 38 Davis, cooler concrete, glass, and steel elements are consciously balanced with warm wood interior accents throughout the building. Laminated birch casework defines the communal forum and library as gathering spaces. Sliding cork dividers and reclaimed train trusses fashioned into benches line the L-shaped hallways, balancing the industrial effect of cement floors and walls. Mass timber beams, and tongue and groove decking frame the ceiling and corner spaces of the office, giving employees at their desks continued exposure to the wood elements. It is a modern, utilitarian, yet historic and comfortable design that uses natural raw materials to inspire.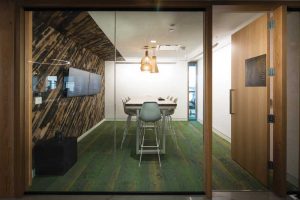 The firm conducted a post-occupancy survey to measure the change in employee perceptions since the relocation. Satisfaction with personal workspace increased from 58 to 77 percent. Anecdotally, the higher ceiling height was one of the most positively received upon elements of the design. The number of employees marking "satisfied" or "very satisfied" with the firm overall rose by an average of 26 percent.
Sustainability
Choosing mass timber as a major structural element is allowing builders to drastically reduce their impact on the environment. With its innate renewable qualities, wood compares favorably to building materials like steel and concrete. In a recent article, an editor of the National Association for Industrial and Office Parks (NAIOP) explains, "A ton of concrete used in high-rise construction spews one ton of carbon into the air during production; one ton of wood used in 
a wood mass building has the potential to remove from the air and store up to two tons of carbon for the life of the project."