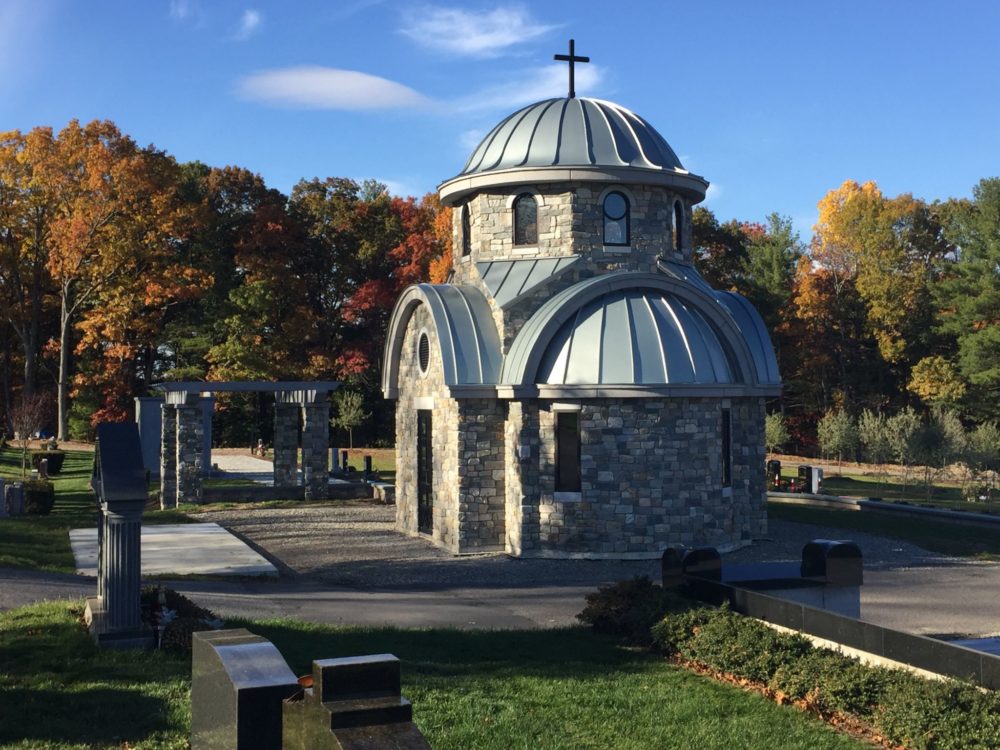 The Byzantine-style Holy Resurrection Chapel in West Roxbury, Massachusetts, was completed this past September, incorporating zinc to achieve aesthetic and design goals. Designed by architect Yervant Nahikian, the Boston-area chapel is located within the Gardens at Gethsemane—a cemetery serving various communities such as Asian, Islamic, Orthodox, military, and non-denominational groups.
One of the chapel's most notable design elements is its multi-faceted dome, which used single-lock standing-seam panels and posed such a complex challenge, several contractors turned down the opportunity.
"We built a prototype of one half of the dome in our shop to make sure the 24 dome panels would position properly," says Bob Gorman, president of Gorman Construction, which fabricated the dome and the chapel's triangular panels.
Gorman Construction also provided custom flashings and detailing, as was necessary to create a continuous curve over the drip-edge.
"The biggest challenge was fabricating the double-curve 'hourglass' panels in one continuous piece," says Gorman. He adds, "It was an interesting project with different treatments—that's what attracted us to it."
The dome was not the only challenge the team had to face—the design also had to be sensitive to the tradition of facing east to pray, common in Orthodox and other faiths.
"In addition to the complexity of the roof, the design required that the intersection of two panels would break precisely above each window, which were aligned with the four points of the compass," says Gorman. "The cross on top of the chapel aligns with the panels to run north and south so that the face of the cross greets the rising sun from the east."
Zinc—specifically, a proprietary 0.8-mm (0.03-in.) blue-gray zinc—was also used for the chapel's four aforementioned triangular elements, and for its four half-round barrel vaults, which were clad in double-lock panels.