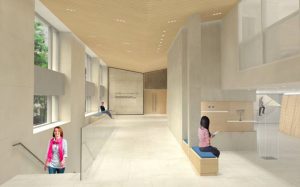 MBB Architects has completed the renovation and expansion of Park Avenue Synagogue's 87th Street building. Known among congregants as PAS@87th, the reconfigured and renovated building serves as the communal center of the synagogue campus.
Facilities and amenities added in the 6085-m2 (65,500-sf) building include gathering areas, two new prayer spaces, and a glassed-in, double-height multipurpose room displaying stained glass panels. At its center, a chapel enclosed in a sweeping, sculptural enclosure invites worshippers to daily prayer.
The completion of this major renovation follows on the heels of Park Avenue Synagogue's opening of Eli M. Black Lifelong Learning Center, adapted from a 1912 Neo-Renaissance landmarked townhouse and now serving as an educational and multiuse facility. MBB Architects collaborated with Chicago-based architect and Judaica designer Amy Reichert to incorporate themed artwork, Jewish texts, and other liturgical installations into the 87th Street Synagogue building. These include the reinstallation of a series of historic stained glass windows created in the 1950s by American artist Adolf Gottlieb.
Commenting on the multiphase building program, Beryl Chernov, the synagogue's executive director, said the new campus allows Park Avenue Synagogue to launch "new program initiatives, a re-envisioned curriculum in its congregational school, and a fresh take on familiar worship events."
The result of these intensive building campaigns has been "a cohesive plan for this vibrant congregation's varied needs," say the synagogue's leaders, adding spaces for prayer, special events, education for all ages, and support functions.
In short, "It is a responsive urban campus for a growing faith community," says Mary Burnham, FAIA, a partner with MBB.