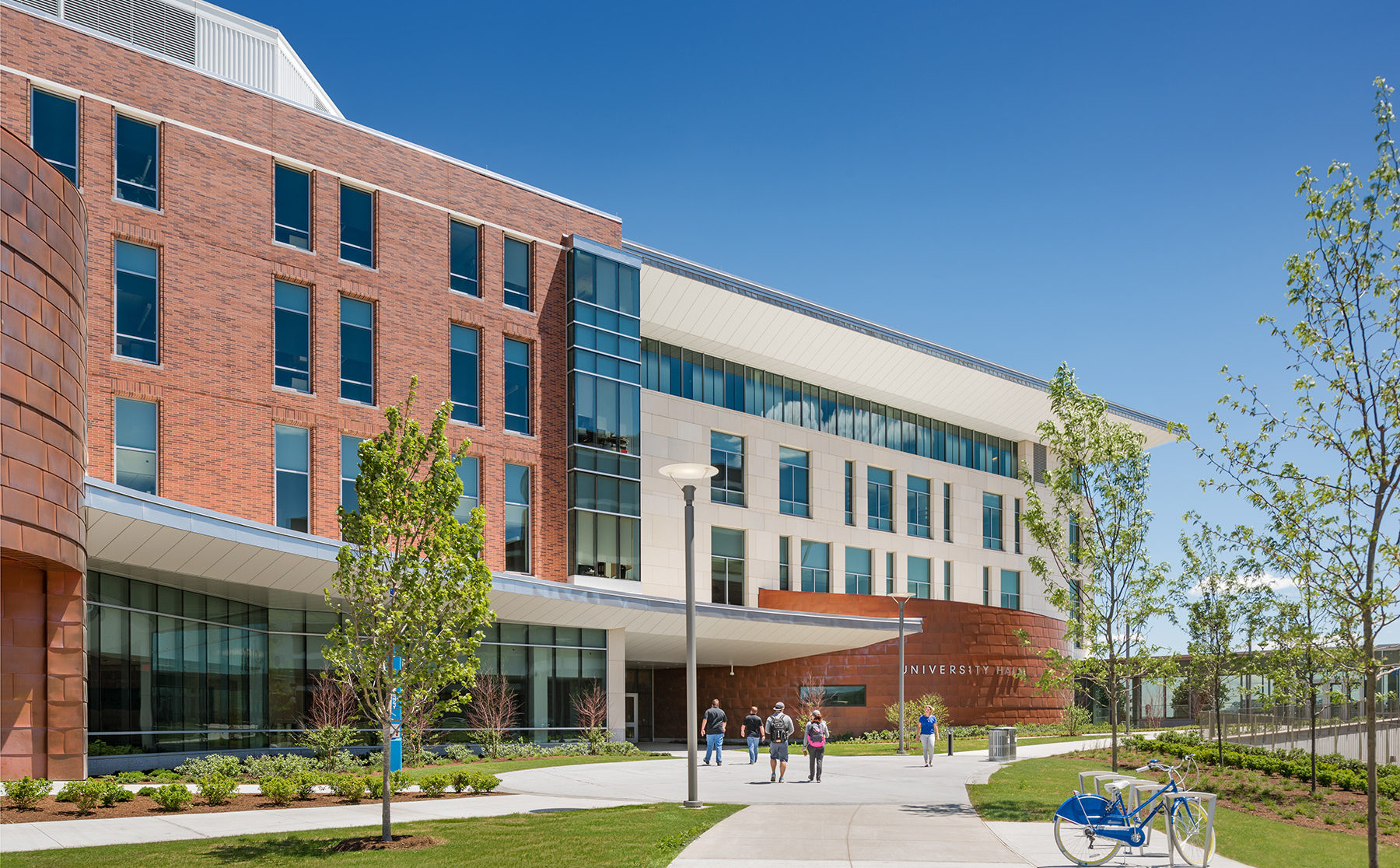 In spring 2016, an interdisciplinary academic building opened at the University of Massachusetts (UMass) Boston. Previously called General Academic Building 1, University Hall was designed to earn Silver under the Leadership in Energy and Environmental Design (LEED) program, and to overcome a number of acoustic challenges inherent to the space.
This four-story, 17,651-m2 (190,000-sf) building features 2000 seats in 25 classrooms and lecture halls, as well as performing arts and laboratory space. It includes offices, a café, a student lounge, study areas, a 500-seat auditorium, a 150-seat recital hall, a 200-seat flexible theater, a dance studio, an acting lab, and practice rooms. This is in addition to a large atrium, which gives students and faculty views of the Boston Harbor.
Given the varying acoustic needs of the facility's different spaces, effective sound isolation was a crucial consideration in its design and construction. Additionally, the hall is located on a flight path for the Logan Airport, meaning aircraft noise also had to be measured and mitigated. This was done by placing noise monitors on the roof of a nearby building and using the data collected to determine which window types could alleviate noise from passing aircraft.
On the building's interior, the performing arts spaces required particular attention—the recital hall, for instance, was isolated from the rest of the building and treated to allow for user adjustment of acoustical settings, so as to accommodate the different needs of different performances. Similarly, the theater blocks noise from the upstairs chemistry lab's mechanical equipment with a four-layer isolated ceiling.
Following the Integrated Sciences Complex that opened in early 2015, this is the second new academic building to be constructed since the instigation of the 2007 UMass Boston Master Plan to develop and improve the campus. Though designed to LEED Silver, as mentioned above, the hall is currently targeting LEED Gold.
The project team included designer Wilson Architects, consultants Acentech and Theatre Projects Consultants, and construction manager Gilbrane Building Company. Next in the school's master plan is a 1000-bed residence hall, which will be UMass Boston's first on-campus housing option when it is completed.