A safer, healthier place for vision-impaired veterans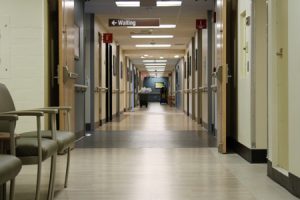 Another recent project highlighting the importance of ICRA training and advanced healthcare knowledge is the Edward Hines, Jr. VA Hospital, located west of Chicago. This 60-ha (147-acre) campus provides a safe and supportive environment for veterans. It is home to a variety of facilities for servicemen and women, including America's first BRC. Built in 2005, this place helps develop the skills and attitudes needed for dealing with varying degrees of vision loss.
When the facility first opened, it included luxury vinyl tile (LVT) in high-traffic areas along with other floorcovering materials elsewhere on the property. Unfortunately, environmental challenges during installation combined with age and condition changes led to buckled tiles in corridors and public spaces. The problem first appeared in 2010 and became a hazard for vision-impaired patients, visitors, and staff. In-house measures were used to temporarily secure the tiles to minimize any tripping hazards for patients and other occupants.
The Department of Veteran's Affairs (VA) directive regarding blind centers requires them to provide training to veterans within 60 days of application. To meet this requirement, the Hines BRC was required to remain 100 percent operational during any potential renovation work. To minimize bed closure and facilitate a rotation of patients, installing the new floor would prove to be a challenging, multiphase process.
Administrators and the hospital's in-house interior designer set out on an ambitious plan to transform the space while limiting closures to no more than six beds at a time. A service-disabled veteran owned small business (SDVOSB), NuVeterans Construction Services, Inc. carried out the installation.
Since they could only shut down a maximum of six rooms at a time, the facility management did its due diligence in finding the best solution for transforming the space. The project team also needed to create something special in terms of design and elevate the facility to a new level of sophistication by creating wayfinding that patients could feel with their long cane. However, this would not prove easy.
Due to overarching VA standards, the design and specification process was somewhat limited. The replacement flooring could not include a shiny surface and needed to be a no-wax product due to glare, reflection, and slip resistance. They also could not specify linoleum or ceramic tile, which narrowed them down to LVT. Even with LVT the specified product had to be of a certain thickness to seamlessly transition from LVT to existing vinyl composition tiles (VCTs) found in patient rooms (they were not able to use transition strips at the threshold of patient room doors as they are a trip hazard).
The final product also needed light color options along with enough texture to feel with a long stick but not too much to become a trip hazard. When considering the other daily demands of the space, including service dogs that could scratch or stain the floor, heavy rolling loads from medical carts and equipment, and foot traffic, they were further limited to a handful of manufacturers.
The team also needed materials that would pass the tap and sweep test of a long cane and help with wayfinding. Patients needed to feel a difference between the flooring material without it being too obvious. For example, a long strip of textured flooring perpendicular to a door or opening signifies a patient room. A textured square is a sign for non-patient rooms. A long strip or band running parallel to a door signifies an elevator or exit. These designs do double duty, as they help the fire department look for patient rooms in smoky or hazardous conditions where only the floor is visible.
Due to ICRA requirements, the NuVeterans Construction Services team needed to address moisture barrier and mitigation issues to improve conditions. After removing each tile, the installation team ground and shot-blasted the concrete to remove contaminants. They then used a moisture mitigation system to prepare the surface for primer and texturizing. Before the LVT was installed, the new subfloor received a skim coat. This cement-based rapid drying smoothing and finishing compound provides a smooth finish on various substrates, making it suitable for a fast-moving project.
Another challenge was creating an infection barrier that could be seen by patients with varying degrees of vision loss. The infection barrier needed to keep dust, allergens, and other debris out of occupied spaces. A black plastic barrier was implemented as it provided enough contrast for many of the patients in the facility to see.
With roughly 1208 m2 (13,000 sf) of flooring and 21 phases, the Hines installation was challenging, but thanks to certified trainers, the NuVeterans' team was able to quickly and efficiently complete the project with minimal disruption to patients, staff, and visitors.
Specific education in moisture mitigation and substrate preparation helped them provide the facility with a floor that will last for decades. More importantly, the patients who now call the Hines VA BRC home know they have a floor that is specifically designed for them.
Conclusion
The VA Fort Wayne Campus and Hines BRC projects are just two of countless healthcare projects that benefitted from the specification of trained, certified installation teams and evolving infection-control standards like ICRA. As the industry works to address the threat of HAIs and decrease the number of people who die from preventable infections each year, the federal government and healthcare organizations will find value in knowledgeable and informed specifiers and contractors.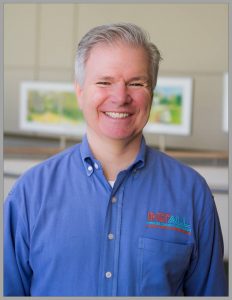 John T. McGrath, Jr. is the executive director of the International Standards and Training Alliance (INSTALL). McGrath has helped to increase installation standards and expectations in the flooring industry by playing a leading role in facilitating communication and cooperation among mills, manufacturers, specifiers, contractors, and installers. He can be reached at john.mcgrath@carpenters.org.