Why should specifiers care?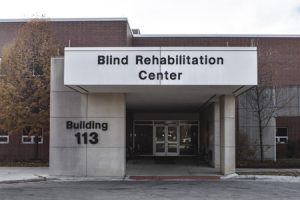 At first glance, ICRA training might seem more tailored for construction and installation teams, but the livelihood of specifiers can be directly impacted by these protocols and procedures. Therefore, it is critical architects and designers are ICRA trained and certified.
For example, if a healthcare facility is flagged due to infection control violations relating to ICRA, it can be required to stop all services, including construction. This means an architect or design firm's project will be behind schedule. While facilities must rectify the problem in 10 days, this can quickly snowball, setting up a domino effect of setbacks and other potential violations. The result is a major impact on finances and timelines.
"It is imperative architects and designers working in the healthcare market are exposed to ICRA and the threat of HAIs as early as possible," explained Mike Bohan, Indiana/Kentucky/Ohio regional council of carpenters representative and ICRA team leader. "Not only should they understand how to include containment walls in their drawings, but also need to know how and where to place soft walls and the importance of coordinating every step of the project with a healthcare facility's compliance team."
In healthcare facilities employing their own architects and in-house designers, chances are the team is aware of ICRA, HAIs, and the rules behind when and where to draw in containment and soft walls. The same goes with firms specializing in healthcare design and construction.
"Typically, if an architect has existing relationships with hospitals prioritizing infection control, they are more educated and better prepared," added Bohan. "However, not all facilities and healthcare companies have the awareness or are up to snuff with infection control."
Bohan also stresses the importance of specifying certified contractors with a working knowledge of ICRA and other healthcare-related standards. Doing this ensures the job will get done right the first time.
An example of success
Bohan is not alone in his belief that trained, certified labor is a must-have for healthcare projects. Beginning in 2015, the United States Department of Veteran's Affairs (USDVA) has required every carpet, resilient tile and sheet, and athletic carpeting job must meet INSTALL certification standards. This is good news for USDVA designers because when they require a general contractor to select an INSTALL-certified flooring installer into their specification, no matter who the lowest bidder is, they are guaranteed to be qualified.
"Like any other entity that owns and operates many institutional buildings, we have had a long history of flooring failure," says Orest Burdiak, principal interior designer at the USDVA. "From poor floor prep and improper testing for dryness to inadequate moisture mitigation, we have experienced a laundry list of installation-related flooring issues across hundreds of projects," Burdiak explained.
"At the end of the day, as a government entity, we owe it to the taxpayers to approach construction projects in a way that delivers quality facilities in a cost-effective manner," Burdiak said. "While the USDVA is a nonproprietary organization that does not endorse specific products or manufacturers, we realized the significant costs we kept incurring for subpar flooring installations and decided to require that installers working on USDVA projects have a certain level of training as a way to reduce the amount we spent fixing mistakes."
Since modifying the master specification to include INSTALL certification standards for labor, the results have been positive.
"I have not heard of any flooring failures on large projects since our relationship started, and while it is tough to oversee and monitor small projects across hundreds of facilities, the benefit to our employees, patients, and bottom line has been immediate and profound," Burdiak says.
As a result of this partnership, INSTALL contractors have completed a plethora of USDVA projects in recent years. This includes a large hospital campus in Fort Wayne, Indiana, and the redesign of the country's first blind rehabilitation center (BRC) in Illinois.
Creating a state-of-the-art healthcare facility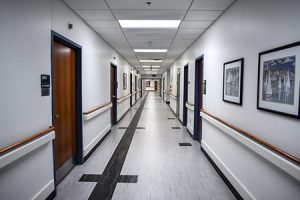 Originally constructed in 1950, the USDVA Northern Indiana Health Care System (NIHCS) Fort Wayne Campus offers primary, secondary, surgical, and specialty medical care for thousands of patients annually. This facility has gone through a series of renovations and updates over the past seven decades. The resulting hodgepodge design was confusing, frustrating, and unattractive.
With limited storage, a dark and dated design, poor acoustics, and confusing wayfinding, the lobby and welcome center space was unsatisfying.
To provide a more positive experience, and address lingering accessibility, maintenance, and infection-control concerns, the facility overhauled these areas to ensure a state-of-the-art healthcare environment for veterans. A key component of renovation was the flooring, which now serves multiple purposes in the revitalized facility.
Santarossa Mosaic and Tile was selected to handle the installation. Mike Drippé, project manager with Santarossa, headed it. His team worked in overnight shifts, completing individual stages as quickly and efficiently as possible while the hospital remained fully operational.
"One of the major installation tasks came in the form of the circular designs, radiuses, and stripes," explained Drippé. "If these elements are installed correctly, they pop right out at you. However, if done incorrectly, the mistakes are noticeable and distracting."
Since there was slight ambiguity in the design plans, Drippé worked with the USDVA design team to get all of the colors and weld rods lined up. He then created shop drawings that laid everything out for the installation team. Next came the demolition phase. The existing vinyl was removed, exposing a 203-mm (8-in.) thick concrete subfloor. After moisture testing revealed there was no problem with the subfloor, the concrete was cleaned and prepped with a feather finish and skim coating where necessary before the new flooring went down.
After each individual flooring design element was cut, the installers v-wedged out the space between each piece of vinyl and heat welded the products together, skiving the extra material off the top to create a near seamless appearance. This was all done while other trades were onsite installing short walls, skylights, and other design features.
From a facility maintenance standpoint, the revamped Fort Wayne Campus now has a hard-wearing, impact-resistant floor that can stand up to the wear and tear that comes along with a 423-bed hospital.