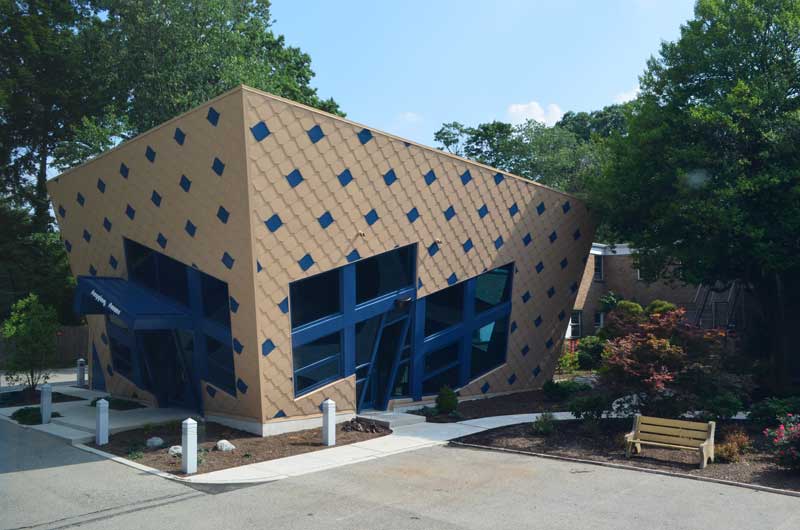 When designing Stepping Stones Preschool, John J. Di Benedetto sought to create a playful, creative environment to reflect the facility's Montessori program.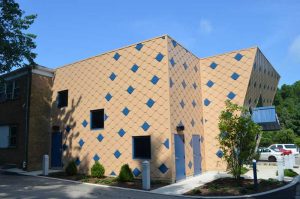 "I wanted to relate to the preschoolers," says Di Benedetto, principal at John J. Di Benedetto Associates Architects. "If you give kids a crayon and paper and ask them to draw a building, they probably would draw it with crooked walls and crooked windows."
Located on a private school campus in Wyncote, Pennsylvania, that features a mix of new and older buildings, Di Benedetto's imaginative design incorporates aluminum metal diamond-shaped panels, coil-coated in beige and blue, which accent the preschool's Dr. Seuss-like sloped walls and windows.
Di Benedetto selected the metal panels because of their durability, as well as the design creativity permitted by the material. He adds that the beige color complements the brick of the adjoining building and the blue accent shingle effectively matched the school's signature color.
"Materials can be used beyond the way they were intended," Di Benedetto says. "The first benefit to using metal is its durability, but I like using it as another tool in the palette of colors and textures. It really works well as a focal material."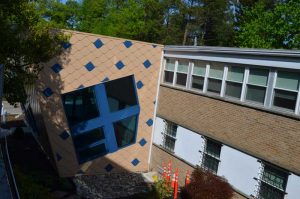 More than 186 m2 (2000 sf) of lightweight, aluminum panels cover the building's exterior. To help the installation maintain its aesthetic, a 70 percent polyvinylidene fluoride (PVDF) metal coating system was factory-applied to the panels to protect against harsh weather conditions, chalking, and chemical degradation, helping the panels maintain their vibrant colors and resist fading.
Since completing construction, Stepping Stones Preschool's evocation of functionality and whimsy has been recognized via several professional building awards, including Project of the Year (commercial wall) from ATAS, a professional design award from the Pennsylvania Council Society of American Registered Architects, and an honorable mention for the Metal Construction Association's (MCA's) Chairman's Award.