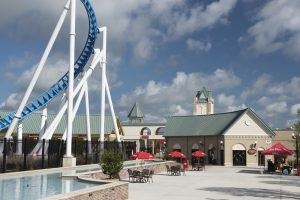 The Park at Owa in Foley, Alabama, featuring an amusement park with two themed shopping and entertainment districts, has become a favorite with locals and tourists in just a couple of years. Drawing on classic Southern coastal architectural themes, designers with Florida-based STOA Architects opted for metal roofing panels throughout the new park.
The park was developed by the Poarch Band of Creek Indians—Owa means 'big water' in the tribe's language and refers to the 6-ha (14-acre) lake created for the facility. The shopping and restaurant districts, along with an onsite hotel, help attract more than the thrill-seeking crowd.
STOA Architects wanted to create an old-style boardwalk look for the facility, and steep-slope metal roofing was a key ingredient in those plans. The proximity to saltwater and history of hurricanes also played a role in the metal roofing's specification.
"We live in a high-wind district, and metal just tends to hold up better than anything else," said Billy Landry, a project manager and estimator for Reelentless Construction, an Alabama-based roofing installer. "And with metal, you get the look—it is more and more popular every day."
The team installed more than 3995 m2 (42,000 sf) of 0.40-gauge metal panels with striations across 10 to 12 buildings, along with almost 557 m2 (6000 sf) of soffit panels and 121 m2 (1300 sf) of 22-mm (7/8-in.) corrugated panels. To create the look of boardwalk districts that had developed over time, each building's roof had its own customization requirements. This meant the installers had to treat each building as a separate project.
"The Paula Deen building was a pretty big challenge for us," Landry said, referring to the Paula Deen Family Kitchen, one of the park's largest eateries. "It had angle changes and some sections were steep. And the two entrance towers had non-walkable sections, where everything had to be done out of a manlift. There was no repetition from one spot to the next."
The amusement park occupies only half of the property, while a shopping mall fills the other half. The mall, like the amusement park, consists of multiple small buildings, most of which are covered with metal roof panels.
Reelentless Construction installed 4924 m2 (53,000 sf) of standing seem roof panels in .040-gauge aluminum finished in hemlock green, cityscape, and terra cotta on 10 buildings in the retail section of the park.