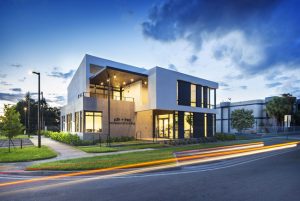 Office buildings can be uninspiring, boxy, and dull, but now and then, one can see a commercial construction or company headquarters bordering on being a true work of art. SDH + TREO Professional Building, in Miami, Florida, are one of those office designs that make you wish you worked there. It is home to SDH Studios and their partner, TREO, a construction company that develops all architectural projects.
Contemporary style with maximum functionality
The SDH + TREO office building is a modern, spacious, two-story structure with a double-height open-plan, placed in a 697-m2 (7500-sf) corner lot in North Miami Beach. The architects conceived the construction as a sculptural concept that creates an inspiring, dynamic environment enjoyed by employees of both companies.
It is 418 m2 (4500 sf) of bright office space where creative ideas are born and developed. The design of the façade presents a creative play with vertical windows, creating an interesting modern focal point for the building exterior. They flood the interiors with an abundance of natural light, but also offer employees the privacy they need.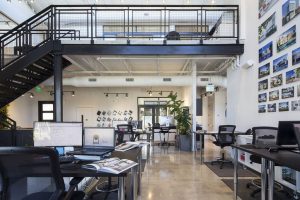 Not just pretty on the outside
The interior of the building keeps up with its eye-catching exterior. It is modern and industrial, with exposed iron beams and columns, and polished concrete floors. The contemporary building exterior features a soft play of various gray tones, and the inside follows that concept. With added white, gray, and black, the colors of this building contrast with its surroundings. It gives the office space a fresh, modern Miami vibe.
In addition to the open space plan, all offices are separated by aluminum and glass partitions, providing light and privacy for everyone in the building.
The open floor plan includes a kitchen where both companies can enjoy a meal together. In the middle of the double-height space is a big industrial-style staircase with a black steel structure and concrete steps.
Vertical garden
The heart of the office entrance is enhanced with a green wall, creating a contrast to the contemporary industrial style of this professional building. It emphasizes how important natural elements are to everyone in the team and how seamlessly they can incorporate them into any project.
The entire office is covered with exposed polished concrete floors. Not only does it give a chic modern look to the working space, but also guarantees durability.