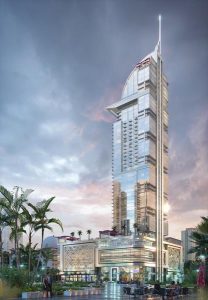 Downtown Miami will soon be home to a hotel and medical center especially designed to combat COVID-19 and other pathogens.
The 55 story, 205 m (671 ft), Legacy Tower at Miami Worldcenter is being constructed by Miami-based Royal Palm Companies development firm with a $340-million construction loan from Silverstein Capital Partners.
The Legacy Tower will feature 310 high-rise residences and 219 hotel rooms. The first 10-floors of the building will feature an 11,148 m2 (120,000 sf), state-of-the-art medical center.
Royal Palm Companies says Legacy will also be equipped with the latest coronavirus-disinfecting technologies, including hospital-grade ventilation systems, a fleet of Xenex LightStrike germ-zapping UV ray robots, facial recognition and touchless entry devices; and high-tech water purifiers, all proven to help prevent the spread of viruses and other pathogens.
Legacy will include on-site physicians, ventilators, pharmacy, a diagnostic laboratory, an imaging center and other medical services available.
The building is expected to be completed in early 2025.